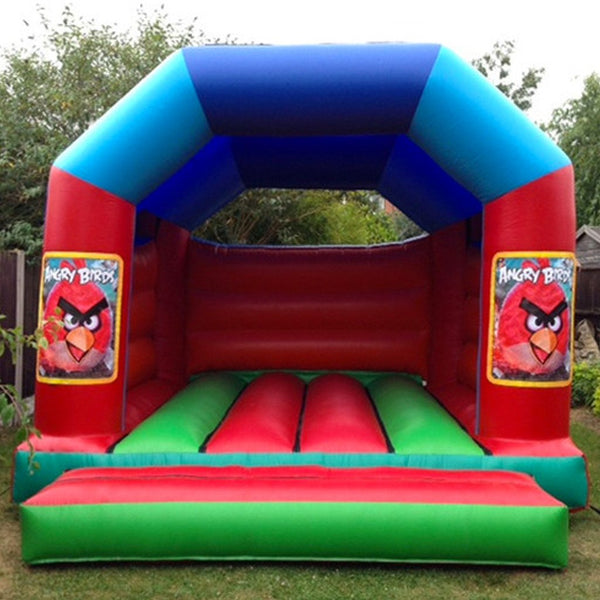 Product Sizes & Prices
Small – (10ft x 12ft) - £50
Medium – (12ft x 14ft) - £55
Large – (15ft x 15ft) - £60
Description
If you know a special child who loves Angry Birds, you'll find that hiring our Angry Birds Bouncy Castle is the key to making your son or daughter happy at his or her birthday party.
Our colourful and fun Bouncy Castle is decorated with a charming and hilarious Angry Birds motif and it's a safe, clean and well-maintained play place.
Affordable to hire and spacious enough for lots of little ones, this design is one of our most popular and this is why we're so proud to offer it to you today!
Now, let's talk about the Angry Birds and why they've captured the imagination of children in the UK…and all over the world!
Why Angry Birds Is So Popular
The Angry Birds computer game app, which so many kids and adults play on their smart phones, was introduced to the masses back in 2010.
To date, 12 million copies of the game have been sold and this incredible popularity has led to a host of other Angry Birds products, such as stuffed toys and figurines.
Kids love Angry Birds and this is why hiring a Bouncy Castle which features all the characters will make a special event even more special!
How To Hire Our Angry Birds Bouncy Castle
If you want to hire our Angry Birds Bouncy Castle for a birthday party, community festival or other special event, just call us!
Our team is standing by, ready to arrange bookings of Bouncy Castles, Bouncy Slides, Slush Machines and more!
Our team will check your preferred date and see if this Bouncy Castle is available.
If it is, it will be reserved for you.
Our staff members will also make sure that a delivery/pickup schedule is arranged which works with your schedule.
Once you've hired our Angry Birds Bouncy Castle, you'll greatly boost the chances of hosting an unforgettable event, where children are able to blow off steam, pretend and make the most of their time!
Not The Right Bouncy Castle For You?
Please click here if you would like to browse the rest of our bouncy castles for hire.