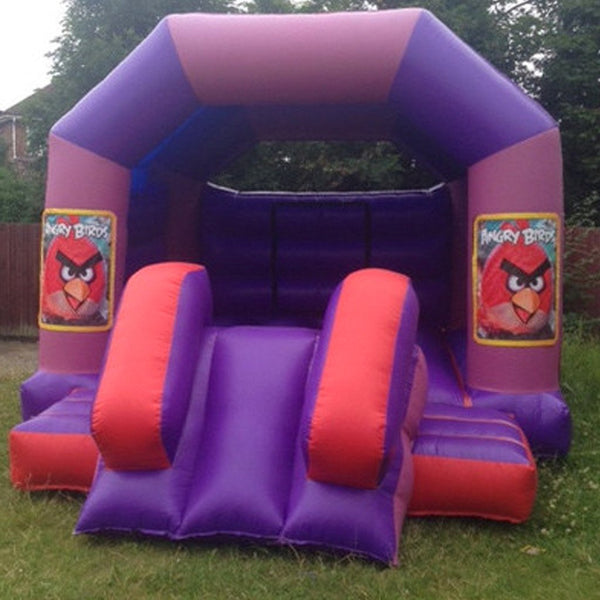 Product Sizes & Prices
One Size – (12ft x 16ft) - £70
Hire This Angry Birds Bouncy Slide Today
Angry Birds is a truly addictive computer game which has captured the imagination of young and old alike!
Launched in Autumn of 2010, this game sold twelve million copies and a range of stuffed toys and other Angry Birds products are now on the market.
This game is something that kids just love and this is why we're proud to offer the hire of our Angry Birds Bouncy Slide.
It's colorful, bright and cheery and features the beloved Angry Birds that children adore!
Safe and fun for kids, this Bouncy Slide allows children to frolic out of doors.
Hiring this Bouncy Slide will be a perfect way to get kids away from their smart phones and computers and it's definitely an ideal choice for birthday parties, school events and community festivals.
When you hire this design today, you'll be able to keep kids at your event fully entertained and you'll also help them to burn off excess energy.
The Bouncy Slide will contribute to the overall success of your event.
It's a toy that is healthy for kids, as it encourages them to use their bodies during playtime.
A lot of kids don't get the outdoor playtime that they should, so providing this Bouncy Slide will help them to access healthy physical activity during your party of other type of get-together.  
What Are Bouncy Slides Anyway?
Bouncy Slides are inflatable toys which look a lot like playground slides.
They are very soft and slippery and kids slide down them in order to get a little thrill.
Then, they climb up steps on the back and slide down again!
Since the slides aren't super-steep, they are safe choices for little ones, however, adults should always supervise as kids slide down these slick and sensational inflatables!
Durable and constructed with safety in mind, our Angry Birds Bouncy Slide is also very affordable, so hiring it won't bust your party budget.
If you want to learn more about this inflatable party accessory for kids, please connect with our team today.
You may contact us anytime direct on 07957 608 216 or simply complete our quick enquiry form and we will get right back to you.
We'll set up your hire for you and/or give you all of the support and guidance that you need.
We are here to help!
To find out more about Angry Birds, please click here.