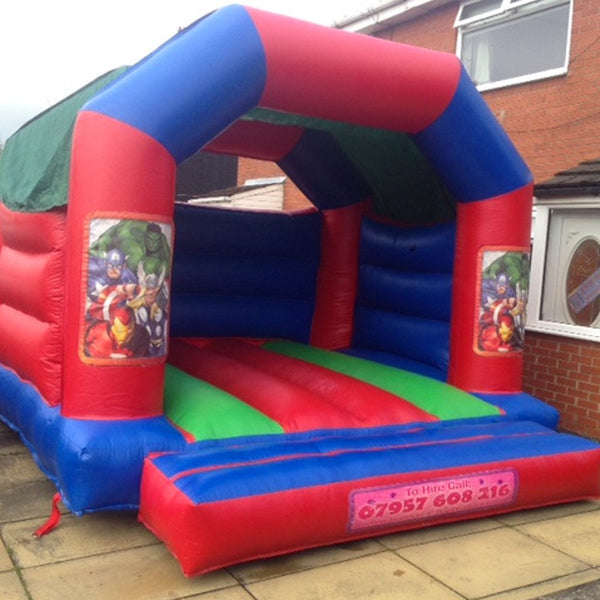 Product Sizes & Prices
Small – (10ft x 12ft) - £50
Medium – (12ft x 14ft) - £55
Large – (15ft x 15ft) - £60
Description
This Avengers Bouncy Castle inspired by the Marvel Comics characters will whisk you back to your childhood.
Remember those days at the fair when you would beg your parents to buy a ticket for you to bounce in the giant castle?
And then when they did, you dove headfirst through the opening, rolled into the centre oblivious to the other children jumping around you, sprung to your feet and bounced as hard as you could pretending you could soar through the skies in your rocket powered suit just like Iron Man.  
Now you can bring your childhood to your own backyard for the next generation to enjoy by hiring this Avengers Bouncy Castle for your next event.
Featured characters include classic cartoon depictions of The Incredible Hulk, Captain America, Thor, and Iron Man.
This is the perfect party accessory for the super hero fan in your life and is sure to bring action-packed fun to any event.
This Avengers Castle is built for durability and safety and will turn your party into the one all the other children will be talking about!
You won't have the worry of planning several activities to keep the children occupied because they will all want to spend their time jumping in the castle.
Don't bother with expensive party favors and snacks as the Bouncy Castle will occupy everyone's time!
Specific colors of individual castles may vary, but the fun remains the same.
Simply have the kids remove their shoes and soar through the air with their favorite super heroes.
If all safety guidelines are followed, you and all party guests will have an enjoyable, carefree time.
Your child will thank you repeatedly for throwing such an incredible party.
His friends will definitely ask their parents for their own Bouncy Castles when they throw their own parties.
We strive to provide a professional service in a timely manner and rely on the satisfaction of our customers to promote our business.
We understand you want the best for your child's party, and if you put the hard work in our hands, we guarantee that you will not be disappointed!
Not The Right Bouncy Castle For You?
Please click here if you would like to browse the rest of our bouncy castles for hire.