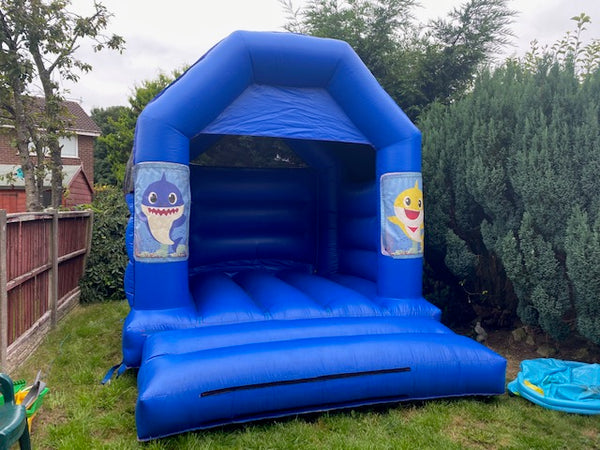 Product Sizes & Prices
Small – (10ft x 12ft) - £50
Medium – (12ft x 14ft) - £55
Large – (15ft x 15ft) - £60
Description
Baby Shark doo doo doo doo doo…if you've got young children then it's almost certain that you've had the Baby Shark theme tune stuck in your head for many hours.
But don't worry, you're not alone – the video of the Baby Shark Dance on YouTube has had an eye-watering near six BILLION views. 
So, you may as well go and invite Baby Shark and family to your children's next birthday party or even your next family event. 
It won't surprise you to know that our Baby Shark bouncy castle hire has been one of the most sought-after products in our range for the last year or so.
The hit, animated YouTube series has swept the globe and got youngsters bouncing and singing along to it.
What better way to do the Baby Shark Dance than by climbing on the Baby Shark bouncy castle. 
Apparently, the Baby Shark phenomenon started as a popular campfire song for young campers in the US.
So, while it was a South Korean education company that made it really take off as a viral video, our Baby Shark bouncy castle returns the lovable character back into the great outdoors for some fun.
Or indoors, if you have a space big enough! 
Some say that original campfire song was inspired by the 80s hit movie Jaws, but thankfully, Baby Shark and co are much more friendly and safer to have at your party than the original Great White would have been! 
Mommy Shark, Daddy Shark and Grandpa Shark will be thrilled to see your own Baby Shark's bouncing the day away and creating fun and memories to last a lifetime.
Think of the amazing photos you'll be able to snap as well, adding some fun and colour to the family album!
The Baby Shark bouncy castle features some amazing artwork which is sure to captivate your children and transport them to an under-water seascape of magic and fun.
They're going to adore it.
The Baby Shark bouncy castle provides an amazing and unmistakable centre piece for your party.
If you're trying to theme the party to Baby Shark, then the bouncy castle is even more of a must-have!
If you want more information about hiring the Baby Shark bouncy castle, then get in touch with our team.
We're experienced when it comes to bouncy castle hire across Liverpool, Wirral and Merseyside and can talk you through all of the considerations and arrangements.
We'll be happy to check availability and provide a no obligation quote for hiring the Baby Shark bouncy castle.
We can also advise on locations, venues and all of that other information you'll probably want to know!