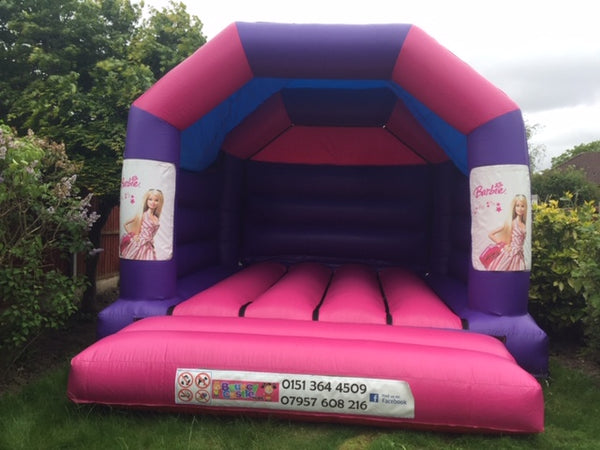 Product Sizes & Prices
Small – (10ft x 12ft) - £50
Medium – (12ft x 14ft) - £55
Large – (15ft x 15ft) - £60
Description
There are few more iconic toy brands in the world than Barbie.
Since she was introduced back in 1959, Barbie has been a favourite for little girl's all over the world and continues to be so today.

She's been reinvented numerous times to continue to appeal to generation after generation and young girls today still love her!
In fact, over one billion barbie dolls have been sold worldwide since the first once went on sale more than 60 years ago.

So, why not invite Barbie to your next birthday party of family event at which kids will be present?

From elegant outfits to dashing makeup, Barbie has had just about it all over the years.
She even stole Ken's heart!
Well, now Barbie can come to you and brighten up your day – and that of your family – just like she has for so many youngsters around the world for so long.

Our Barbie bouncy castle will add all the joy and sparkle of Barbie to your party, be it a back garden get together or a local event space gathering.
The Barbie bouncy castle boasts an exciting, vibrant design and is of course predominantly pink – what else could it be?

It features some artwork of Barbie herself and some other splashes of colour to truly make this iconic doll come to life for a new generation.
The entrance into the castle is arched and almost has a look of a princess' kingdom!
There's plenty of room for little ones to bounce their day away as they create happy memories and great family photo opportunities!

Thanks to the colour and artwork of this bouncy castle, it lends itself to many different party themes, especially for little girls.
The Barbie bouncy castle is also perfect for more generic events, such as family get-togethers or school fetes.

The Barbie bouncy castle is always popular for birthday parties, so make sure you book in advance to avoid disappointment.
For more information, a quote and to check availability, get in touch with our team today.
We will be happy to talk you through all of the details of our Barbie bouncy castle hire.
We've been hiring out bouncy castles across Liverpool and the Wirral and Merseyside areas for many years and have a proud reputation for the high quality of our service.