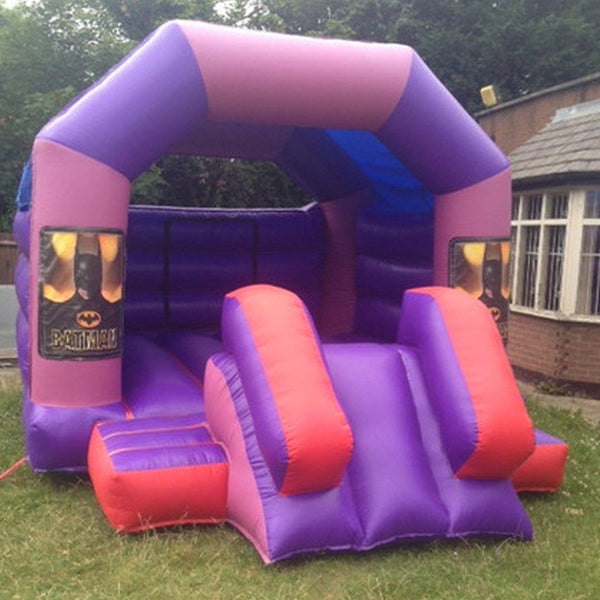 Product Sizes & Prices
One Size – (12ft x 16ft) - £70
Hire This Batman Bouncy Slide Today
Our Batman slide is the perfect complement to our Batman bouncy castle and it's designed to offer even more playtime fun to little ones!
Equipped with features which make sliding so simple and safe, this exciting design is adorned with Batman characters and the official Batman logo.
Since it has no steps, children will enter the bouncy castle and then slide down directly from one of its exits.
It's a simple design which works beautifully and we're proud to offer it for hire.
It's an ideal choice for birthday parties, community festivals and school events and the cost of hire is definitely very affordable.
Learn All About Batman
We added this inflatable style to our inventory because children adore Batman.
This classic cartoon character appears in comic books, films (such as Batman Begins and The Dark Knight) and there are a zillion Batman toys on the market.
Kids who love Batman admire his devotion to justice.
Batman spends his life trying to clean up Gotham City by battling the bad guys (and girls!), including the Joker and the Penguin.
How To Hire Our Bouncy Slide
Now is the right time to reserve this Bouncy Slide (and our Batman Bouncy Castle!).
If you're interested in hiring it today, please give us a call.
Our experienced team has the answers to any questions that you might have and we are standing by in order to offer the most caring and comprehensive service.
When you contact us today, we'll check availability for this design and then book it for you if it's free on the day of your special event.
We'll also ensure that the slide comes to you in perfect condition.
It will be clean, well-maintained and ready for the kids.
Children should take off their footwear before they enter the castle and go down the slide.
An adult should always supervise while children utilise our castle and slide.
To find out more about Batman, please click here.