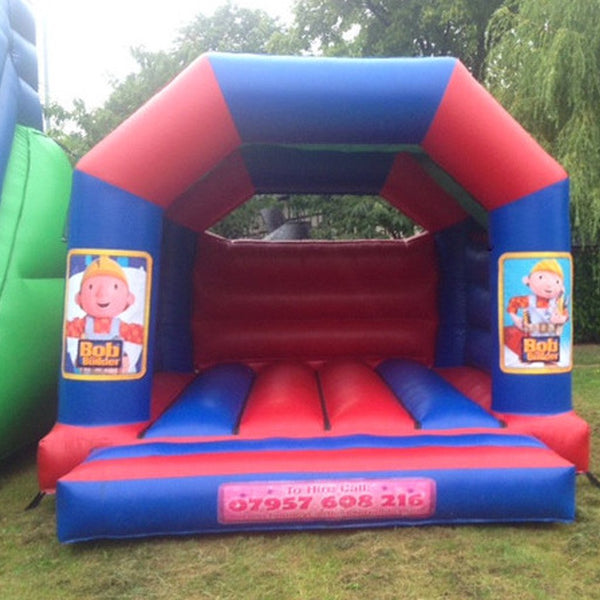 Product Sizes & Prices
Small – (10ft x 12ft) - £50
Medium – (12ft x 14ft) - £55
Large – (15ft x 15ft) - £60
Description
If you're searching for a perfect way to entertain kids at a birthday party or other type of event and you have some outdoor space to work with, you may wish to consider hiring our Bob the Builder Bouncy Castle.
This exceptional inflatable is in immaculate condition and it will allow kids to frolic, bounce and burn off plenty of energy!
We offer only the safest and cleanest bouncy castles, this is why you will feel secure hiring from our company.
Why Bob The Builder Is So Popular?
Bob the Builder is a beloved (and very British!) cartoon character that children really respond to.
He's the main character of this kid's animated TV show which is the brainchild of Keith Chapman.
Bob the Builder is a building contractor who performs masonry work along with his co-worker, Wendy, and other friendly folk.
The underlying message of this TV show is very positive, as it's designed to help kids learn how to resolve conflicts, work with one another, socialize and absorb learning skills.
Bob the Builder is known for his catchphrase, which is, "Can we fix it?"
If a special child that you know loves Bob the Builder, hiring our Bouncy Castle will be a perfect way to show your love. It will also boost the chances that your special event is a memorable one for kids!
This character has mass appeal, so our Bouncy Castle is definitely a great choice for community festivals, school events and different types of parties.
It's probably true that he's more appealing to little ones, however, even older kids may remember watching Bob the Builder and enjoy playing in a Bouncy Castle which features Bob and his buddies!
All that kids will need to do is take off their shoes and then enjoy all that this Bouncy Castle has to offer.
Adults should always supervise little ones while they play.
How To Hire Our Bob The Builder Bouncy Castle
Our team of representatives are standing by to help.
Just call us direct or contact us via our enquiry form today in order to reserve this Bouncy Castle for your birthday party or other type of special event, and let us take care of everything else!
Not The Right Bouncy Castle For You?
Please click here if you would like to browse the rest of our bouncy castles for hire.