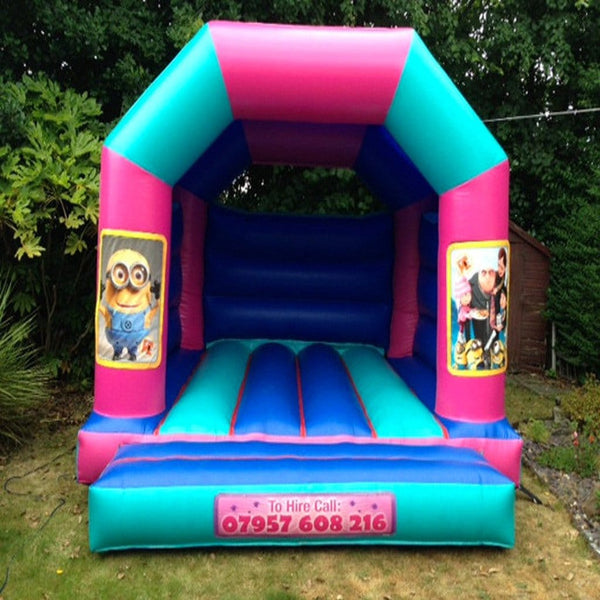 Product Sizes & Prices
Small – (10ft x 12ft) - £50
Medium – (12ft x 14ft) - £55
Large – (15ft x 15ft) - £60
Description
This Bouncy Castle is inspired by the popular Dreamworks movie 'Despicable Me' and features, Gru, his adopted daughters and the lovable minions.
The cartoon movie lover in your life will jump for joy upon seeing their favorite characters depicted on the Bouncy Castle and will squeal with excitement when they take their turn flying through the air.
Make your child's themed party dreams come true with this incredible party accessory.
With proper adult supervision, each and every child will have the time of their lives soaring to new heights alongside Gru and his faithful minions.
This Despicable Me Bouncy Castle is built for durability and safety and will leave the other children talking about your child's party for months to come.
Forget about planning an array of different activities to keep the children happy and let them jump with their favorite characters to their little heart's content!
Specific colors may vary depending on each castle, but the fun remains the same.
Be sure to ask each child to remove their shoes before entering the castle for hours of safe, adventurous excitement.
It is also recommended that the number of children inside the castle at one time be limited in order to ensure safety.
We ask that the children not be allowed to bring food or outside items into the castle for fear of damaging or puncturing the lining.  
If every recommended safety guideline is followed, your child and their party guests will have an amazing time and you will be able to relax in the knowledge that you have planned and created the perfect party with minimal effort!
Your child's friends will be so excited, they will beg their parents for Bouncy Castles for their own parties.
Our goal is professional service in a timely manner and we rely on customer satisfaction to promote our business.
If you have any issues with your hire regarding set up or delivery, do not hesitate to contact our office so we address any issues you may have as soon as possible.
Leave the hard work in our hands while you sit back and take all the credit.
You want the best for your child's party.
We guarantee that you will have it!
Not The Right Bouncy Castle For You?
Please click here if you would like to browse the rest of our bouncy castles for hire.