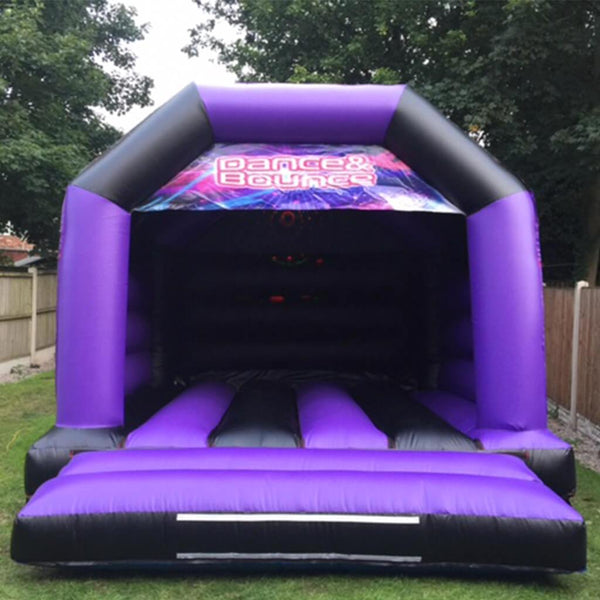 Our Disco Bounce bouncy castle is simply brilliant - there is no other way to describe it. If you and your guests love a party, a disco and a bouncy castle, then you simply must roll it all in to one and hire this party essential! Perhaps this is where the expression comes from when someone says the disco was bouncing?

Disco Bounce is an medium-sized bouncy castle which can accommodate a good number of children in this darkened bouncy disco hall complete with 80's disco artwork. This is a product that was specifically designed to let kids have some good, old-fashioned fun.

As soon as you see the Disco Bounce bouncy castle looming over your venue, your childs heart will begin jumping and their feet tapping as they anticipate getting inside and bouncing the night away. Its appearance screams excitement and partying, and it sure delivers on both fronts. We can even help supply speakers and disco lights should you need them, ensuring this bouncy disco experience is as authentic as possible.

And just in case the weather turns sour, it's covered - meaning your party can bounce on well in to the night regardless of what Mother Nature does. You may just need to invite your neighbours around too.

Get the party started!

If you're interested in our Disco Bounce, then get in touch with our dedicated team today who will help you plan your big event...or bouncing disco! We will be able to advise of the venue requirements that this amazing product will need, and check that it's available for the dates you have in mind.

Our team has a wealth of experience when it comes to bouncy castle hire and will be happy to run through how everything works. It leaves you one less thing to worry about on your party to-do list!