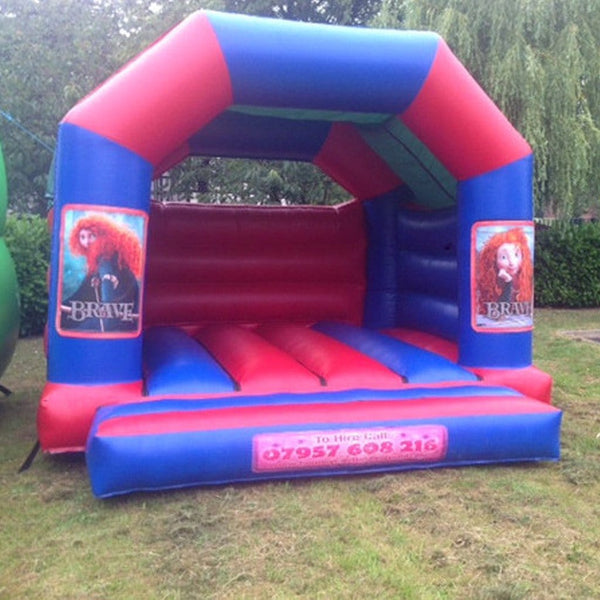 Product Sizes & Prices
Small – (10ft x 12ft) - £50
Medium – (12ft x 14ft) - £55
Large – (15ft x 15ft) - £60
Description
Pixar movies which are produced by Disney are pure magic and Brave was particularly inspiring.
Its main character, the Scottish princess, Merida, showed so much strength and power as she followed her own heart, rather than following tradition.
This princess didn't want to be betrothed…she just wasn't ready for a husband!
Known for her fiery red ringlets, Merida didn't hesitate to use a little magic in order to turn her own Mother into a bear, with a mind to avoiding betrothal and marriage by escaping the castle.
However, Merida is good at heart and she soon wished to reverse the spell.
During the film, she spends a lot of her time trying to undo her own magic!
Humorous and dramatic by turns, Brave was a wonderful example of cutting-edge computer animation.
Merida is a character that young kids love – in fact, she's appealing to kids of all ages.
Our Brave Bouncy Castle features Merida and other characters from this critically-acclaimed animated film.
These popular characters, along with the Brave logo, capture the imagination of kids and will inspire some intensely creative play within the inflatable castle's soft and safe walls!
Why Hire Our Brave Bouncy Castle?
Kids these days spend far too much time staring into their phones and playing computer games.
Some children just don't get the physical activity that they need in order to be balanced and happy!
When you hire one of our Bouncy Castles for your special event (or for no occasion at all), you'll be able to keep a group of kids moving and having fun within a safe and buoyant environment.
Once they slip off their trainers or shoes, they'll be able to explore the Bouncy Castle and do some exciting bouncing!
To hire this Brave Bouncy Castle for your birthday party or other type of get-together, just call us today or complete our quick enquiry form.
We look forward to taking care of your needs!
Not The Right Bouncy Castle For You?
Please click here if you would like to browse the rest of our bouncy castles for hire.