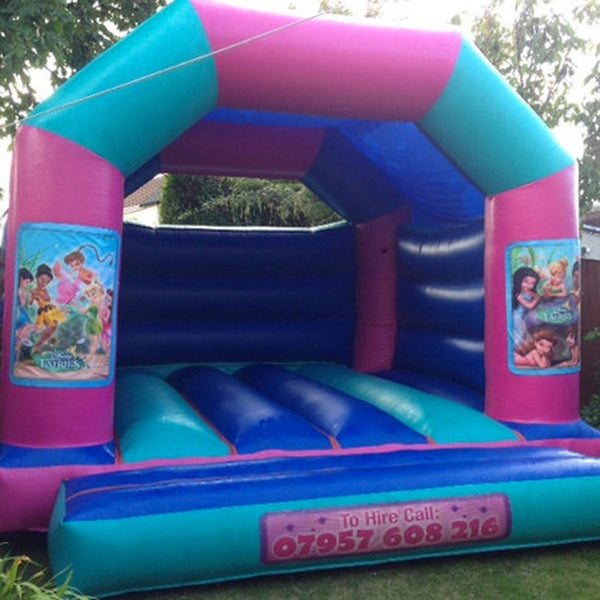 Product Sizes & Prices
Small – (10ft x 12ft) - £50
Medium – (12ft x 14ft) - £55
Large – (15ft x 15ft) - £60
Description
If your child loves Disney fairies, you'll find that hiring this Disney Fairies Bouncy Castle for his or her birthday party is the perfect way to add an extra special feel to this already-special occasion.
In fact, our Disney Fairies Bouncy Castle is perfect for any type of special event, from a birthday party to a school event and community festival or fundraiser.
Designed to help little ones express themselves through creative play and healthy physical activity, our exceptional Disney Fairies Bouncy Castle is affordable and so easy to hire.
Now, let's talk a little about the Disney Fairies, who have really captured the imagination of children worldwide!
Why Disney Fairies Are So Popular
Disney Fairies is a franchise of the Disney Corporation and iwas launched during 2005.
Tinker Bell is a key character in the Disney Fairies lineup and she rose to fame as the delicate, mischievous and sometimes-temperamental fairy (she gets a little jealous of Wendy's friendship with Peter Pan!) in the classic Disney animated film, Peter Pan.
Fairies from Peter Pan are referred to as Neverland Fairies and they fly and help the good guys win through their special brand of magic.
Children love Disney Fairies!
In particular, they are quite a hit with little girls, who may collect Disney Fairy toys and watch programs with these characters, however, they are not just for the girls.
They are magical and wonderful and this why all kids enjoy them so much!
Hire This Special Play Place Today
Kids really need a place to blow off steam at special events.
They get restless if they can't move around and pretend in a safe and welcoming environment.
When you hire our beautiful Bouncy Castle, which is adorned with Disney Fairies characters, motifs and logos, you'll ensure that kids do have a safe and fun place to burn off energy and enjoy themselves.
To hire this Bouncy Castle today, simply call us direct or complete our simple and easy to use enquiry form and let us take all the stress off your shoulders.
We look forward to reserving this design for your party or other special event.
Not The Right Bouncy Castle For You?
Please click here if you would like to browse the rest of our bouncy castles for hire.