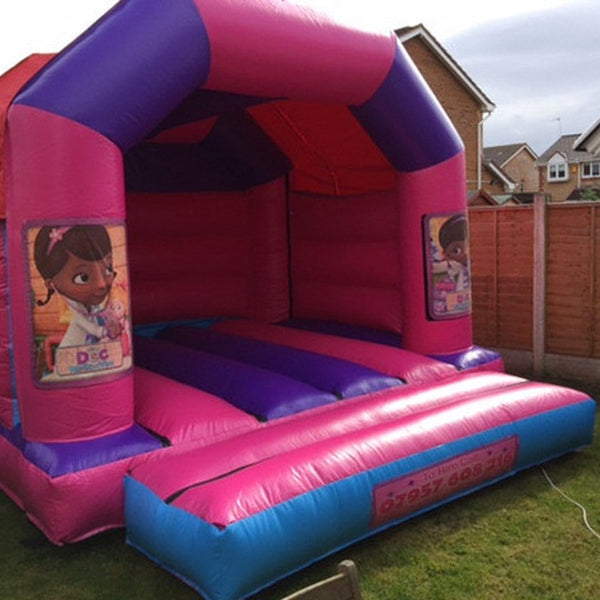 Product Sizes & Prices
Small – (10ft x 12ft) - £50
Medium – (12ft x 14ft) - £55
Large – (15ft x 15ft) - £60
Description
If you know a special child who is a fan of Dottie "Doc" McStuffins, you'll love our Doc McStuffins Bouncy Castle!
It features the charming female cartoon character, Doc McStuffins and her all best friends.
Doc is known for creating magic via her stethoscope.
Doc McStuffins has the power to bring toys (such as dolls and teddy bears) to life, just by putting on her stethoscope!
Once she's brought these toys to life, she's also able to communicate with them.
Doc gets some help at her clinic from some interesting characters, including a dragon, Stuffy, who is known for his excessive pride!
This is a great kids show which is all about caring for others, helping them and having fun.
Dottie "Doc" McStuffins is a great role model for boys and girls and we're proud to showcase her via our fun, safe and affordable Bouncy Castle.
You may hire our Doc McStuffins Bouncy Castle for a children's birthday party or other special event. It's sure to make any get-together more fun for little ones!
Bouncy Castles Inspire Imaginative Play
A Bouncy Castle is something that kids are thrilled to see in the distance.
Usually, when they spot one, they start running towards it!
All they have to do is remove their shoes and climb inside in order to start playing with their friends.
Since our Bouncy Castles rentals are so competitively-priced, you may find that the cost of hiring our Doc McStuffins Bouncy Castle is more reasonable than you might think!
The best way to get all of the details about hiring this beautiful and charming Bouncy Castle is to get in touch with us.
We're standing by in order to reserve this fun inflatable play place for your special event.
With this in mind, we encourage you to get in touch with us today.
We'll make sure that you enjoy a truly pleasant customer service experience!
Not The Right Bouncy Castle For You?
Please click here if you would like to browse the rest of our bouncy castles for hire.