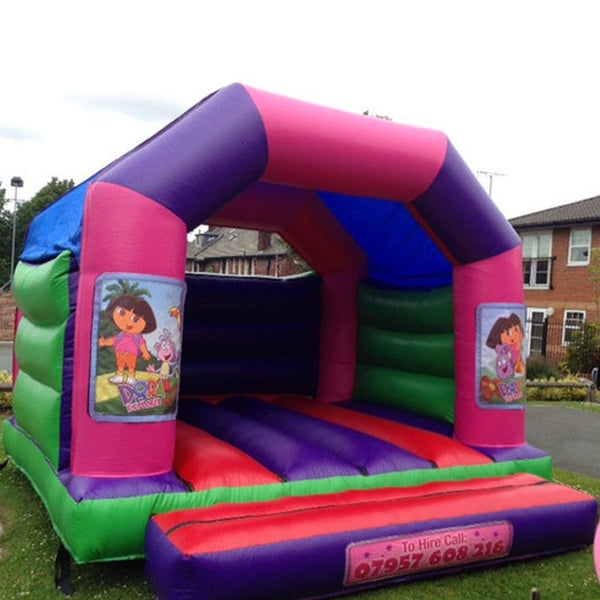 Product Sizes & Prices
Small – (10ft x 12ft) - £50
Medium – (12ft x 14ft) - £55
Large – (15ft x 15ft) - £60
Description
Are you planning a kid's birthday party or another special event where little ones will be in attendance?
If the answer to this question is, "yes", then you should know that we offer a wonderful Bouncy Castle with a charming Dora the Explorer theme.
This Bouncy Castle is well-maintained by our team of dedicated experts.
It's clean, it's safe and it's designed to give children the physical activity that they need in order to be healthy and happy.
Adults should always supervise kids while they bounce and frolic in this soft and buoyant inflatable.
Also, kids should take off footwear before they go inside!
We offer this inflatable play place to parents, guardians, schools, event planners and community festival organisers.
Anyone who is planning a special event which features kids should consider choosing this appealing design.
We know from experience that it's a big hit with children.
Why Dora The Explorer Is So Popular
In case you don't know, Dora the Explorer is an incredibly popular cartoon character and she is beloved by boys and girls alike.
The show was designed in order to educate and inspire kids.
Most appropriate for children of pre-school age, Dora the Explorer is renowned for its inspiring main character, Dora.
Dora loves to explore, as the title of the show suggests, and she travels about accompanied by her monkey buddy, Boots.
Dora is known for the purple backpack that she wears on her adventures.
Dora typically needs to solve a lot of puzzles and challenges in order to complete her quests and so helps teaches kids to use their brains in order to get results, so it's quite positive in terms of its message.
How To Hire This Dora Explorer Bouncy Castle
If you want to hire our Dora Explorer Bouncy Castle, just reach out to us today either by calling us direct or completing our quick and easy enquiry form, and then let us take care of the rest.
We'll reserve it for you and we'll be there to offer guidance and support.
Thanks for dropping by – we look forward to hearing from you.
Not The Right Bouncy Castle For You?
Please click here if you would like to browse the rest of our bouncy castles for hire.