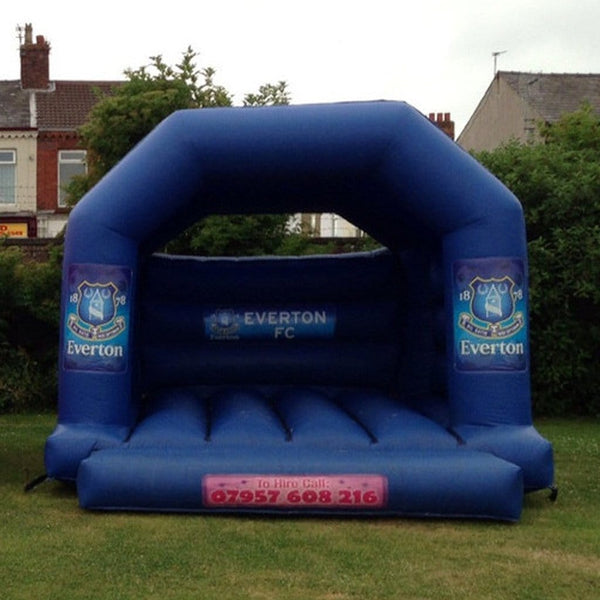 Product Sizes & Prices
Small – (10ft x 12ft) - £50
Medium – (12ft x 14ft) - £55
Large – (15ft x 15ft) - £60
Description
Are you interested in hiring an Everton FC bouncy castle for a birthday party or another type of special event?
If so, you've definitely come to the right place!
Here at Bouncy Castles Liverpool, we are proud to offer the most exceptional bouncy castle styles for hire and our Everton FC bouncy castle is one of our most popular bouncy castles as you can imagine!
Any child who loves Everton FC will be thrilled to see this fun inflatable play place and will be jumping for joy ready to climb inside it and frolic!
It's a clean and well-maintained bouncy castle which will add so much joy to any sort of gathering.
Kids really need exercise and giving them a place to blow off steam will be a smart way to ensure that kids who attend your special event are happy.
Children will have something to do and they'll enjoy being part of a group inside of their special play place.
Just make sure that children take off their shoes before they enter the bouncy castle and it is also highly advised to have an adult on hand to supervise at all times!
In terms of Everton FC itself, the club plays at Goodison Park stadium which is located 5 minutes away from arch rivals Liverpool FC on the other side of Stanley Park, and as we all know about the fierce rivalry and bragging rights between the two clubs, we feel its probably best to leave it there!
Hire Our Everton FC Bouncy Castle Today
Hiring our Everton FC bouncy castle, which features the Everton FC logo and colours, will be as easy as contacting us today.
Simply call us direct or alternatively, complete our quick and simple enquiry form and we will get back to you as soon as possible.
Not The Right Bouncy Castle For You?
Please click here if you would like to browse the rest of our bouncy castles for hire.