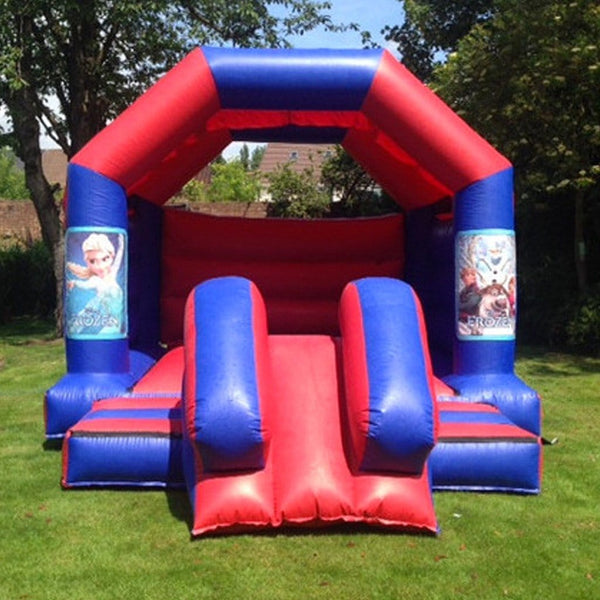 Product Sizes & Prices
One Size – (12ft x 16ft) - £70
Hire This Frozen Bouncy Slide Today
Frozen is an animated Disney film which has become a modern-day classic.
This exceptional feature film features the beautiful Princess Elsa and its script was inspired by a fairy tale by Hans Christian Andersen (The Snow Queen).
In this story, a brave princess begins an epic adventure with her faithful iceman friend and other endearing characters.
If you know a child who adores Frozen, you'll enjoy learning about our Frozen Bouncy Slide as it is an accessory for our matching Frozen bouncy castle.
Why Hire Our Bouncy Slide?
Our Bouncy Slides attach to the sides of our inflatable bouncy castles.
They allow children to climb into the bouncy castle, jump around and then exit via a fun and safe slide.
Kids won't need to climb any stairs.
All that they'll need to do is get in the castle and then use the slide from there.
Every bouncy castle that we offer is affordable to hire, clean and well-maintained.
We take great care of our children's play equipment.
Kids should take off their shoes before entering the bouncy castle and using the slide.
A grown-up should always be around to keep an eye on things.
Since kids often fail to get enough exercise these days, as they spend so much time playing video games and using the Web, choosing our Bouncy Slide will allow you to ensure that children enjoy healthy physical activity during a birthday party, community festival or other type of get-together.
Some people hire bouncy castles and Bouncy Slides for wedding receptions and anniversary parties, so kids have something enjoyable to do while the adults mingle, dance and dine.
Hire Our Frozen Bouncy Slide Today
Now is the right time to get your party planning organised.
Just contact us today and we'll reserve this fun and colourful design for your upcoming special event.
To find out more about Disney's Frozen, please click here.