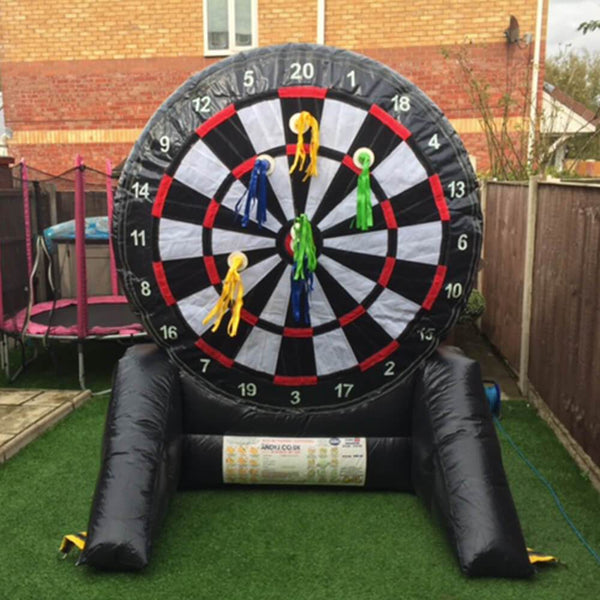 Our inflatable dart board hire in Liverpool brings is a perfect add-on for your kids' party or family event with no end of potential for fun games and activities.

If you've always fancied yourself as a bit of a darts player, then the dart board takes all of the fun of standing at the ockey and instead transports it to any location in you like, and in a totally safe way.

The large inflatable board stands with legs either side and support underneath, meaning it's totally secure and rigid. Let the games begin!

Guarantee Laughs!
While this product is always popular at kid's parties, we have also hired it out for many other occasions. Summer fetes, family celebrations and village fairs are always great events for this giant board to be present at. You can play traditional dart matches on a mega scale, or alternatively create your own games.

We've seen some fantastic activities created by our customers around the dart board, including some team games which also hints at it being a great tool to have at your next team building day.

You can follow traditional darts rules, trying to bring the score down from 501 or 301 to a perfect finish, or why not set challenges for everyone at the party or event?
A three-dart challenge with the object of scoring the highest total is popular, and you should also try 'doubles up' for those players that seem to be getting the hang of playing this enormous game of darts!

Doubles up can be played in several ways, but essentially require the players to each hit doubles on every go. You can make it tougher by going for trebles, or stipulating exactly which doubles or trebles they should get. There are so many variations and versions of games you can play; the inflatable dart board is sure to provide plenty of laughs and entertainment.

Setup & Requirements
This enormous dart board is obviously inflatable and so you won't be using real darts! Instead, score high on this giant board with our velcro darts, meaning it's totally safe for kids to play too!

The giant inflatable dart board is around 1.8m long and 0.9m wide, so you need a fair bit of ground room available. In addition, the height of the board is 2.4m. It's perfect for outdoor use, and so long as you have an area big enough, it can also be set-up indoor meaning you don't have to worry about the weather, and can enjoy it all year round!

Our friendly and professional service includes delivery to the address where you will be using the dart board, and the set-up of equipment. Once your hire period has finished, our expert team will arrive to pack-up the dart board and take it away for you once again, leaving you with absolutely nothing to worry about.
So why not call us today on 07957 608 216 and let us take care of your next party hire event!