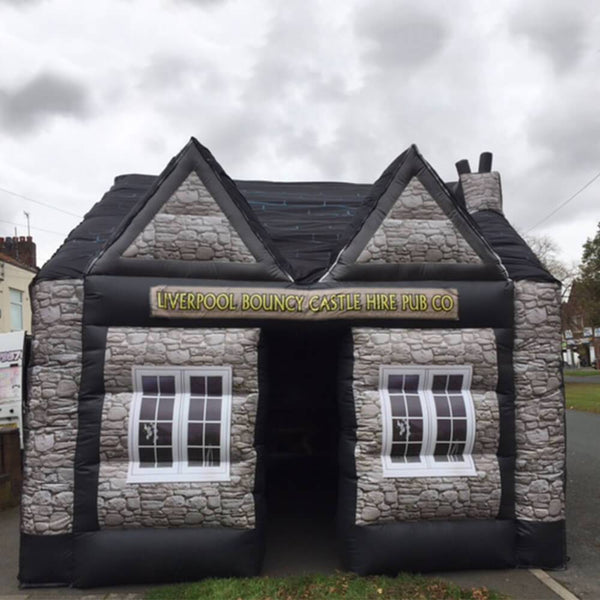 There are few more popular products in the world of inflatables right now than the inflatable pub! Bring your favourite local boozer right in to your house or event venue with this brilliant inflatable pub hire.

The exterior of the pub is fantastic, looking every inch the traditional English local pub, complete with charm and decor! Inside, you'll find a roaring fireplace (not real, obviously), tasteful decoration and traditional Tudor beams making you feel like you've arrived in to the rural English countryside.

Simply fill the pub with chairs, tables and a bar and you're all set for a fun and weather-proof day or night (or both) session down in your very own pub. You'll also need to provide your own alcohol - sorry about that. Soft drinks are also welcome!

Alternatively, if using our pub without chairs, it can comfortably fit up to 30 adults in at any one time. Not only is it perfect for parties, but we've also had businesses hire it to host business events and conferences. It really is suitable for all occasions!

It goes without saying that, due to its very construction, the inflatable pub is suitable for nearly all weather conditions too, as guests are simply able to shelter inside should the rain be hampering the rest of your party or event plans.
A Good Old Fashioned Pub
Before the advent of the inflatable pub, there was no chance you could have ever had the comforts of your local public house on your own premises, perhaps even in your garden.
This really is a game changer and will have your guests, clients or family members talking about your event for years to come.

Contact our team today on 07957 608 216 to get all of the help you need to hire our inflatable pub, and they will also be able to answer the many questions you're bound to have.
What are the dimensions? How do I book it? How long does it take to inflate? We can tell you everything you need, including availability of the pub for your dates, so call us now and let us take care of everything else!