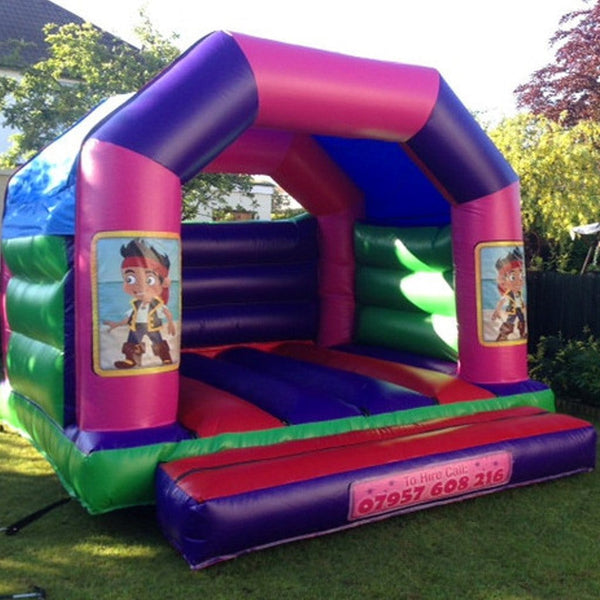 Product Sizes & Prices
Small – (10ft x 12ft) - £50
Medium – (12ft x 14ft) - £55
Large – (15ft x 15ft) - £60
Description
If you're looking for a way to ensure that little ones are entertained at a kid's birthday party or other special event, you may wish to consider hiring our Jake The Pirate Bouncy Castle.
This appealing design features characters and motifs from the popular cartoon TV series, Jake and the Never Land Pirates, which is inspired by Disney's classic animated tale, Peter Pan.
Lots of kids love Jake and the Never Land Pirates.
When you hire our Jake The Pirate Bouncy Castle, children at your event will be thrilled to play inside it!
After all, it's a soft and buoyant Bouncy Castle which features their beloved characters!
Our Bouncy Castles are safe, clean and maintained by our team of inflatable play place experts.
It's also very affordable to hire!
All that kids will need to do is take off their footwear and enter the castle then they may bounce and frolic to their heart's content.
Just be sure that an adult is there to keep an eye on them as they play.
Why Jake And The Never Land Pirates Are So Popular 
If you know a special child who loves Jake and the Never Land Pirates, hiring this Bouncy Castle for his or her special day will be such a wonderful way to show that you care.
Jake and his pirate friends Izzy and Cubby have adventures with their pet parrot, Skully.
They fight against the evil deeds and plans of Captain Hook and his henchman, Mr. Smee, and also compete for the same treasure.
This kids TV show has now aired for four seasons and a feature film is planned for the future.
Contact Our Team Today
If you're interested in hiring this Bouncy Castle, which is one of our most popular designs, please reach out to us today.
Simply give us a call now or alternatively, complete our quick and simple enquiry form and one of our team will call you back as quickly as possible.
We're standing by now so we can give you the best customer service you deserve!
Not The Right Bouncy Castle For You?
Please click here if you would like to browse the rest of our bouncy castles for hire.