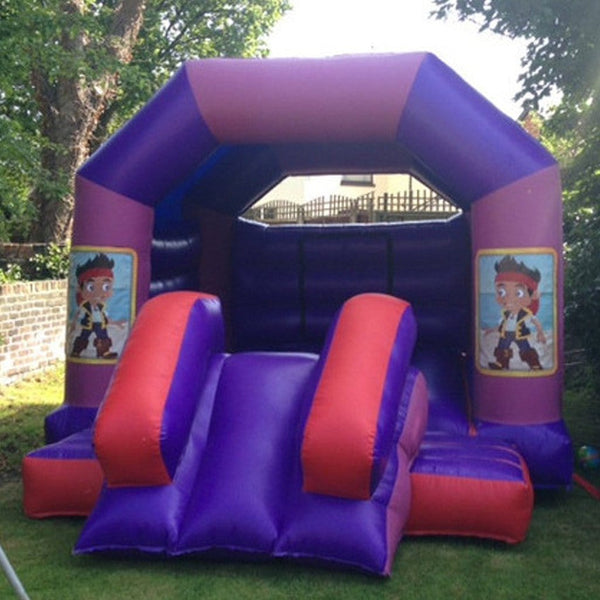 Product Sizes & Prices
One Size – (12ft x 16ft) - £70
Hire This Jake The Pirate Bouncy Slide Today
Jake and the Never Land Pirates is an animated cartoon series which is very popular with children.
It is inspired by the classic Disney film, Peter Pan and it features some inspiring, brave and sometimes-magical characters.
If your child loves this show, hiring our Bouncy Slide, which is a perfect match for our Jake and the Neverland Pirates bouncy castle, will be a smart decision.
This slide enhances the entire bouncy castle experience by offering children more playtime options.
Our Bouncy Slide bolts onto the side of the castle, so it's very safe and secure.
Kids may take off their footwear, enter the bouncy castle and then slide down.
It's a great way to make a bouncy castle even more fun and functional.
Our Bouncy Slide is very clean and we maintain it so that it's always in perfect condition.
As well, our hire rate is very reasonable, so you'll find that adding this slide to your bouncy castle hire is an affordable option.
Our slide is adorned with characters from Jake and the Neverland Pirates and it's a bright, fun and colourful choice for kids.
The slide is slippery enough to provide a bit of welcome speed, without being unsafe.
It's specially made for little ones and it will provide them with hours of playing pleasure at your party or special event.
How To Hire Our Bouncy Slide
Hiring our Bouncy Slide will be so easy.
Just connect with our team today and we'll get things started for you.
We'll ensure that the Bouncy Slide is reserved on the right date and we'll provide you with answers to any questions that you might have.
Once you see how great this slide looks and performs, you'll be so glad that you decided to hire it.
So, why not call us today?
To find out more about Jake & The Neverland Pirates, please click here.