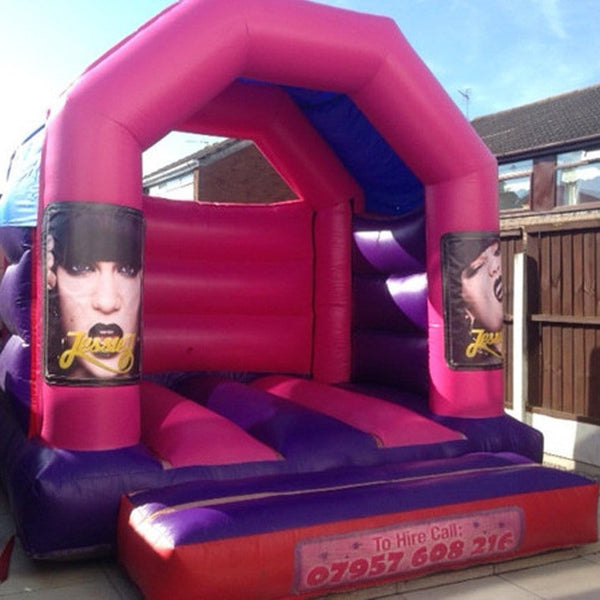 Product Sizes & Prices
Small – (10ft x 12ft) - £50
Medium – (12ft x 14ft) - £55
Large – (15ft x 15ft) - £60
Description
Hiring a Jessie J Bouncy Castle will be a perfect way to make kids happy at a children's birthday party or other type of special event.
If you know a child who loves Jessie J and you're located in Liverpool or the wider Merseyside area, you'll find that our Jessie J Bouncy Castle is a perfect choice!
This fun and inflatable play place features the likeness of Jessie, who is a pretty and popular female recording artist from London.
It's a colorful, exciting Bouncy Castle with a Jessie J theme!
Any young Jessie J fan will be thrilled to see this Bouncy Castle at his or her party.
Bouncy Castles Are Perfect For Parties
Bouncy Castles are safe and soft places where children may frolic and bounce.
They help kids to burn off physical energy and also inspire a lot of creative, imaginative play.
Since kids these days don't always get enough exercise and sometimes spend far too much time on smart phones or playing computer games, giving them a safe and fun place to move their bodies and get away from electronic toys will be a terrific idea.
When you hire our Jessie J Bouncy Castle today, you'll boost the chances of making your special event unforgettable.
Most kids start running towards Bouncy Castles as soon as they see them in the distance!
Suffice it to say that they are a huge hit with little ones!
Why Jessie J Is So Popular
Jessie J has worked in the music and entertainment industries for years and she brings an array of influences to her popular music, including electro-pop, hip-hop and R&B.
She received a Critic's Choice Brit Award in 2011 and has appeared on two versions of The Voice (UK and Australia).
Her albums also regularly make the top 5 on the charts in England.
Hire Our Jessie J Bouncy Castle Today
To hire our Jessie J Bouncy Castle, simply get in touch with our team today.
You can either call us direct or if you are strapped for time, simply complete our fast and easy enquiry form and we will take care of everything else!
We look forward to hearing from you.
Not The Right Bouncy Castle For You?
Please click here if you would like to browse the rest of our bouncy castles for hire.