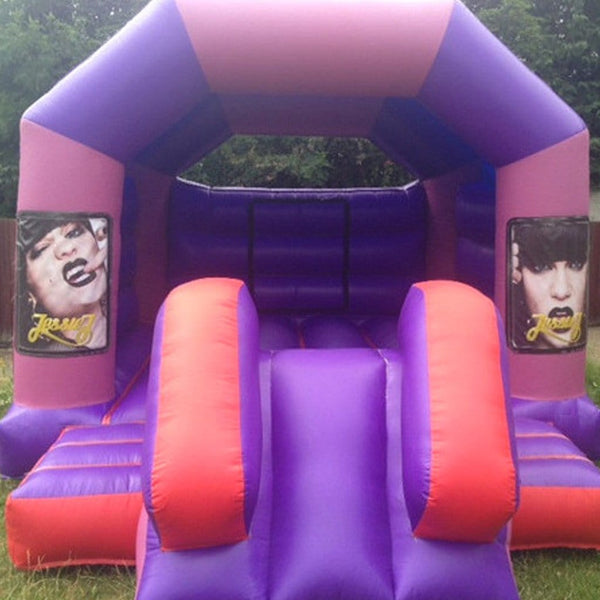 Product Sizes & Prices
One Size – (12ft x 16ft) - £70
Hire This Jessie J Bouncy Slide Today
Are you interested in making a child's birthday party or other child-centered event really special?
If so, you should know that hiring our Jessie J Bouncy Slide will be a great way to make it happen!
This fun and colourful Bouncy Slide is perfect for little ones and it features British music sensation, Jessie J.
Jessie J was born Jessica Ellen Cornish and she started her showbiz career on the stage in London's West End.
Today, she makes hit records and is known for many popular songs, including "Domino".
Any child who likes Jessie J will really enjoy playing on this Bouncy Slide, which matches our Jessie J bouncy castle.
Our Bouncy Slide bolts right onto the side of the castle, so it's really secure and simple for kids to get to.
They just need to take off their shoes, play in the castle and then slide out when they want to.
Since there are no stairs, this slide is a good choice for kids, however, an adult should always supervise children while they play on the Bouncy Slide and bouncy castle.
Why Hire A Bouncy Slide?
Hire a Bouncy Slide in order to keep kids moving and entertained!
These days, a lot of children don't get sufficient exercise.
Our computer game and Web culture make it difficult for kids to pull themselves away from electronics!
When you hire our Jessie J bouncy castle, along with our Jessie J Bouncy Slide, you'll make exercise irresistible to kids.
It's about tempting them to run, jump and indulge in plenty of creative play.
When kids see a bouncy castle and Bouncy Slide at a special event, such as a birthday party or festival, they always get really excited!
You'll feel so good when you see the looks on their faces!
To hire our Bouncy Slide, please contact us today.
We look forward to hearing from you.
To find out more about Jessie J, please click here.