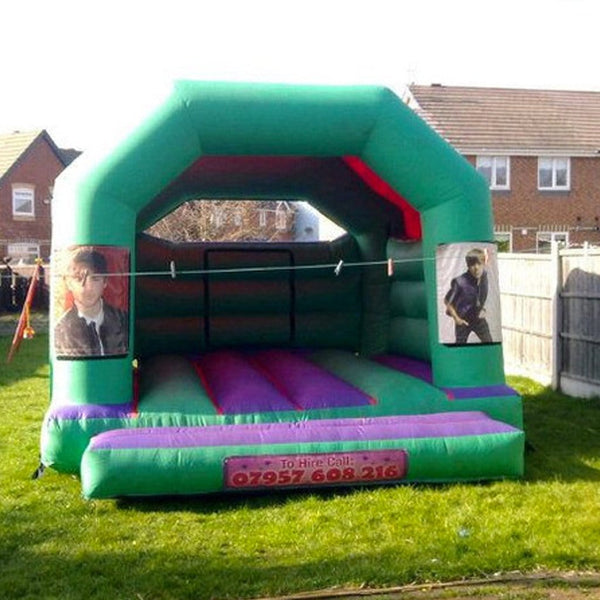 Product Sizes & Prices
Small – (10ft x 12ft) - £50
Medium – (12ft x 14ft) - £55
Large – (15ft x 15ft) - £60
Description
Do you know a young "Belieber" who adores Justin Bieber and would enjoy playing in a Bouncy Castle which features his likeness?
If you do, you're certainly not alone!
Justin Bieber rose to fame on YouTube and he's now one of the most popular recording artists in the world.
Although he's occasionally the subject of controversy these days, he was quite a wholesome presence at the start and his clean-cut looks, great singing voice and infectious pop tunes made him one of the most famous people on the planet.
As you may already know, his die-hard fans are nicknamed, "Beliebers".
Kids who love Justin will be thrilled when you hire this Bouncy Castle for them.
It's a perfect choice for a birthday celebration or any type of social event.
Some people hire it for birthday parties, while others rent it in order to give young kids something to do during community festivals or school events.  
All kids need to do is take off their trainers and go inside.
Once they are in there, they'll be able to talk and pretend as they bounce up and down and frolic about.
Hiring our Justin Bieber Bouncy Castle will be a great way to help kids blow off steam during a special event.
Physical exercise is wonderful for children and it helps to balance kid's moods.
When you hire our castle today, you'll know that you're doing all that you can to make a special event shine!
Call Us Today
To rent our Justin Bieber Bouncy Castle today, just get in touch with us.
Our inflatable play place experts will let you know if the castle is available for you on your preferred date.
If it is, they'll reserve it for you right away!
Not The Right Bouncy Castle For You?
Please click here if you would like to browse the rest of our bouncy castles for hire.