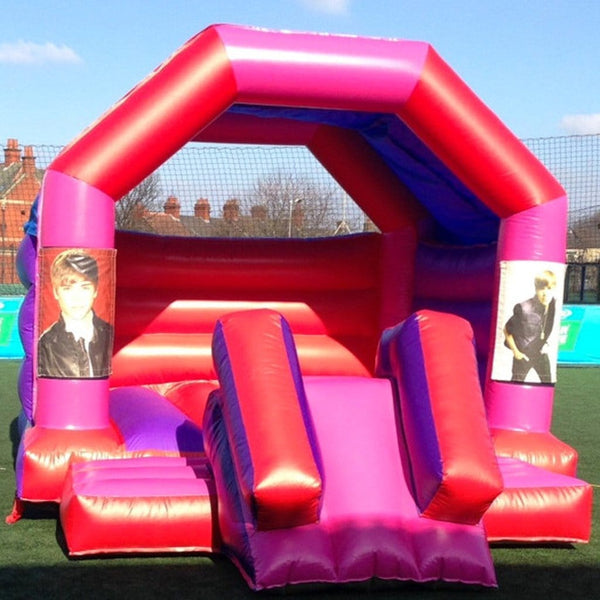 Product Sizes & Prices
One Size – (12ft x 16ft) - £70
Hire This Justin Bieber Bouncy Slide Today
If you know a child who is a "Belieber", he or she will love playing on our Justin Bieber Bouncy Slide.
This stylish and exciting design is affordable to hire and it matches our popular Justin Bieber Bouncy Slide.
We bolt the slide to the castle so that the slide is secure.
Kids may play in the bouncy castle and then slide out when they want to.
After this, they may run into the castle and slide out again…and again and again!
As you probably already know, Justin Bieber is a worldwide singing sensation.
He's a Canadian-born musical artist who made his own luck by posting videos to YouTube.
These homemade videos grew amazingly popular over the short term.
After his YouTube fame began, he was offered a record contract and the rest is history.
Known for his hit tunes, such as "Next to You" and "One Less Lonely Girl", he's a big hit with young people.
Why Hire A Bouncy Slide?
Kids often spend too much time indoors these days.
The love video games and the Web and these electronic activities eat up a lot of their free time.
Since children need a lot of exercise in order to feel healthy and happy, hiring our Bouncy Slide will get them excited about moving their bodies at a birthday party or other special event.
Our Bouncy Slide bolts onto the side of our Justin Bieber bouncy castle and boosts the castle's overall functionality.
It's a great add-on which is guaranteed to be a total crowd-pleaser!
Affordable to hire and very attractive, this design features images of Justin himself.
It's an appealing style which is also safe, clean and fun to slide on.
If you want to learn more, please contact us today.
We will reserve your design for you and make sure that it's ready for the big day.
To find out more about Justin Bieber, please click here.