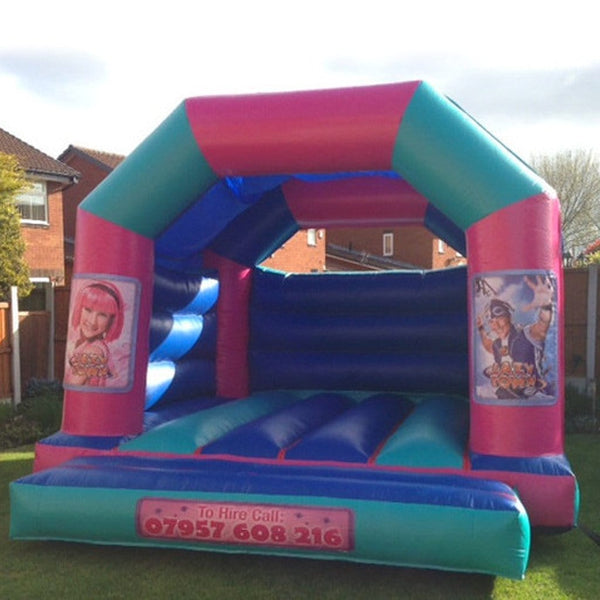 Product Sizes & Prices
Small – (10ft x 12ft) - £50
Medium – (12ft x 14ft) - £55
Large – (15ft x 15ft) - £60
Description
Lazy Town is a charming and somewhat eccentric children's television series.
It's creative enough to dazzle kids and it features some unforgettable characters.
If you know a child who's a fan of Lazy Town, you may wish to hire our Lazy Town Bouncy Castle for him or her.
It's a fun and colourful design which features the show's most popular characters.
If you're planning a special event, such as birthday party for a young Lazy Town fan, adding our Bouncy Castle into the mix will be a wonderful way to show the special child in your life just how much you care.
Since others kids may also bounce and frolic in the Bouncy Castle, hiring it will help kids to socialize, play and blow off steam all through your special event.
We hire our Lazy Town Bouncy Castle to parents for birthday parties.
It's also a popular choice for school events and festivals in the Liverpool community.
When you hire through us, you'll access a safe, clean and well-maintained Bouncy Castle.
As well, our hire prices are very reasonable and we offer the highest standards of customer service to our customers.
Learn More About Lazy Town
Lazy Town is a kid's TV series which isn't animated.
It features real, human characters, although they appear very stylized due to masks, makeup and/or costumes.
This series features a young girl named Stephanie who arrives in Lazy Town in order to share a home with a relative.
She meets new kids and tells them that it's more fun to go outside and play than to sit indoors. This series features lots of memorable and fun characters, including Mayor Meanswell and Sportacus.
Now that you know more about Lazy Town and our Lazy Town Bouncy Castle, why not contact us today?
We'll make sure that the hire process is smooth and pleasant!
Not The Right Bouncy Castle For You?
Please click here if you would like to browse the rest of our bouncy castles for hire.