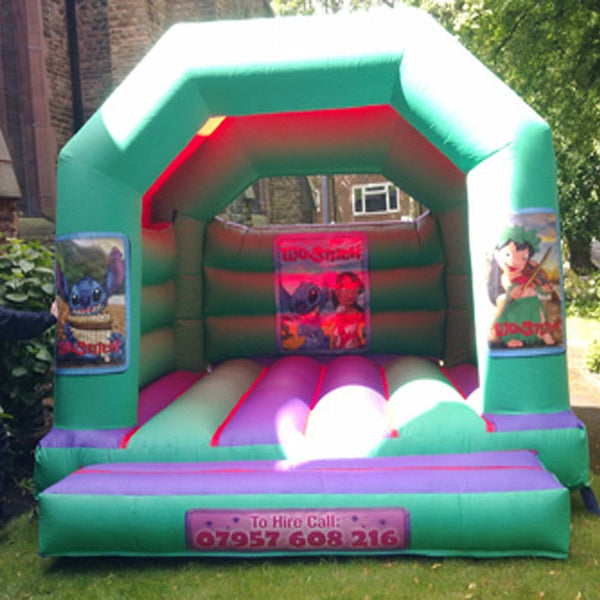 Product Sizes & Prices
Small – (10ft x 12ft) - £50
Medium – (12ft x 14ft) - £55
Large – (15ft x 15ft) - £60
Description
If you know a little one who adores Disney's heartwarming and adventurous animated film, Lilo & Stitch, why not hire our Lilo & Stitch Bouncy Castle for his or her birthday party?
This colourful, fun and safe inflatable play place is the perfect way to make a birthday celebration truly unforgettable!
It's also an ideal way to show a child how much you love them!
Of course, our Bouncy Castle isn't just for birthday parties.
It's also a fine choice for school events, charity events and community festivals.
Any event where young children will be in attendance will become more fun when you add our Bouncy Castle to the mix!
We offer superb customer service to each and every client and when you contact us today, we'll reserve this Bouncy Castle for you and ensure that all of your questions are answered.
We'll leave nothing to chance, as we know that you want your special celebration to go off without a hitch.
Now, let's talk more about Lilo & Stitch and why it's such a bit hit with kids all over the world!
Learn More About Lilo & Stitch
Lilo & Stitch are the main characters in this 2002 Disney classic.
These cartoon characters are a young Hawaiian girl (Lilo) and her sidekick (Stitch).
Stitch is actually a strange creature who is posing as a dog.
Lilo and her older sister adopt Stich from the animal shelter and hilarity and adventure ensure.
Filled with humour and positive valued, this film is great fun from start to finish and that's why kids and adults like love it!
Now that you know more about our Bouncy Castle, our company and Lilo & Stitch, why not contact us today?
We're standing by to help make your party perfect!
Not The Right Bouncy Castle For You?
Please click here if you would like to browse the rest of our bouncy castles for hire.