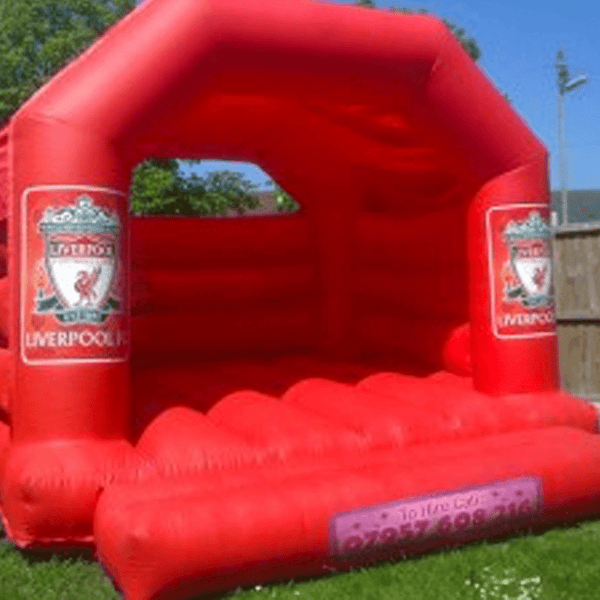 Product Sizes & Prices
Small – (10ft x 12ft) - £50
Medium – (12ft x 14ft) - £55
Large – (15ft x 15ft) - £60
Description
Since we're a Liverpool-based company, we are more than proud to offer a Liverpool FC bouncy castle for hire!
This design will be perfect for kids who love this football club.
Ideal for birthday celebrations and other types of events, this design is clean, well-maintained and so easy to hire.
Call us today and we'll reserve this Liverpool FC bouncy castle for you.
Why Hire A Bouncy Castle?
In the internet age, kids often spend too much time using technology and too little time playing.
When you hire our Liverpool FC bouncy castle, you'll ensure that children are able to frolic and play the old-fashioned way.
Kids need exercise in order to feel good and be healthy.
When they take off their shoes and get in our bouncy castle, they'll be able to jump around with one another and some creative and imaginative play is bound to happen.
You'll feel like a hero or heroine, as kids are just so thrilled to see a bouncy castle when they arrive at a birthday party or other type of special event.
When you choose this design, you'll dramatically boost the odds of hosting a successful celebration, especially if your child is a massive reds fan!
Learn About Liverpool FC
As we all know, Liverpool FC play in the Premier League and it has had plenty of success over time.
To date, the club has earned a range of titles, including European cups, UEFA Cups and lots of League titles.
Currently, the club is managed by Jurgen Klopp.
Beloved by the red half of Liverpool, Liverpool FC also has lots of fans in other parts of England and across the world.
Contact Us Today
To arrange a hire of this Liverpool FC bouncy castle, be sure to reach out to our team today.
We'll make sure that you enjoy a truly pleasant customer service experience.
Not The Right Bouncy Castle For You?
Please click here if you would like to browse the rest of our bouncy castles for hire.