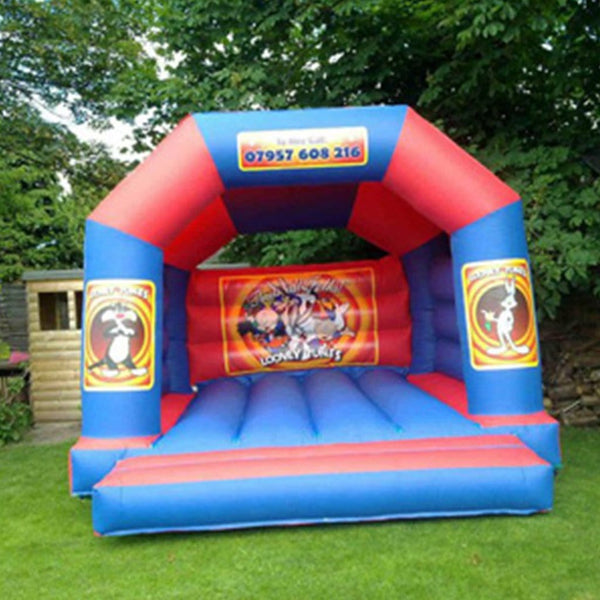 Product Sizes & Prices
Small – (10ft x 12ft) - £50
Medium – (12ft x 14ft) - £55
Large – (15ft x 15ft) - £60
Description
If you know a special child who is a fan of the Looney Tunes, you may wish to consider hiring our Looney Tunes Bouncy Castle for him or her!
This design is just so colourful and it's so much fun for kids to play in.
Choosing to hire this Bouncy Castle will be the key to making any special celebration, such as a birthday party or community festival, truly pleasant for little ones!
Since our Bouncy Castle features an array of wacky and lovable Looney Tunes characters, it's bound to please children and to inspire a great deal of imaginative and creative play!
You should know that placing your trust in us will be a smart decision.
We have years of business experience and our team of dedicated employees know exactly how to maintain Bouncy Castles so that they are immaculate and safe.
As well, we'll give you great customer service.
Learn About The Looney Tunes
You probably know about the Looney Tunes already, as they've been around for so long.
They are classic cartoon characters whose appeal endures throughout the decades.
These charming Warner Brothers characters are beloved worldwide and some of the most famous Looney Tunes are Bugs Bunny, Tweety Bird and Sylvester the Cat.
Originally showcased in a classic cartoon TV series, these characters are found in a lot of different places nowadays, including theme parks and comic books.
Please Contact Us Today
If you'd like to hire our Looney Tunes Bouncy Castle, just get in touch today.
We are here to help and we'll ensure that your hire goes off without a hitch.
We know that you want your special event to be a rousing success and we are standing by in order to help you get things organised.
Not The Right Bouncy Castle For You?
Please click here if you would like to browse the rest of our bouncy castles for hire.