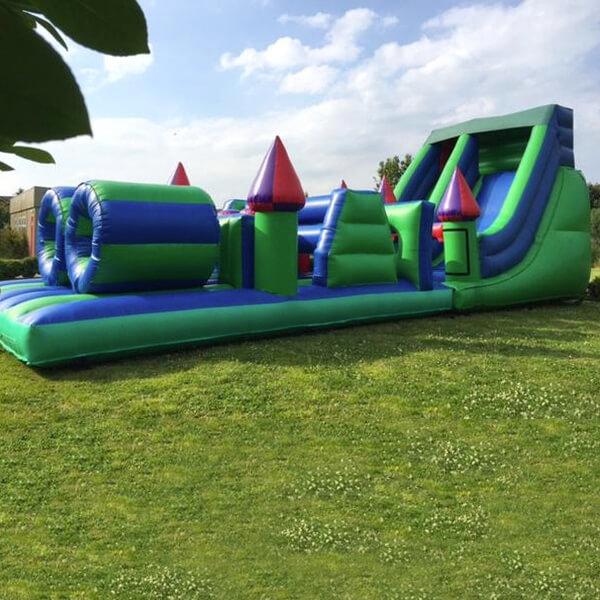 Product Sizes & Prices
One Size – (32ft x 11ft x 10ft) - £150
Hire This Bouncy Mega Assault Course Today
If you want to add excitement to a special event and you have outdoor space to play with, you'll find that hiring our Mega Assault Course is a great way to challenge your guests in a fun and healthy way!
Our Mega Assault Course is very affordable to hire and it allows users to go through a series of obstacles as they compete with others.
This is a large-scale inflatable design with all of the "bells and whistles" and it's very popular for parties, community festivals, corporate retreats and school events.
When you choose our Mega Assault Course today, we'll deliver it to you on your preferred date and then pick it up afterwards.
We deliver between seven in the morning and noon and we pick up at six in the evening.
We'll arrive about fifteen minutes before pickup time.
If you want it overnight, that's fine, we will tack on an additional fee of just twenty pounds in order to provide you with this service.
Why Hire A Bouncy Assault Course?
Some gatherings get boring.
People eat and drink, or maybe dance, but don't have a lot of options in terms of activities.
Since exercise and competition add so much vibrancy to special events, hiring our Mega Assault Course is really the key to making a special event enjoyable for everyone.
Those who don't want to participate may stand by the sidelines instead, cheering on others!
Those who do compete may test their mettle by working their way through a series of fun challenges.
Our Bouncy Mega Assault Course is soft and inflatable, so it's gentle on the body.
It's designed with care in order to provide plenty of excitement.
Our Mega Assault Course is our largest course, so it has the most features.
If you're interested in hiring this design today, please connect with us.
We'll reserve it for you and let you know exactly how the delivery and pickup process works.
We'll make it so easy for you to host a truly engaging special event which is fun for all attendees.