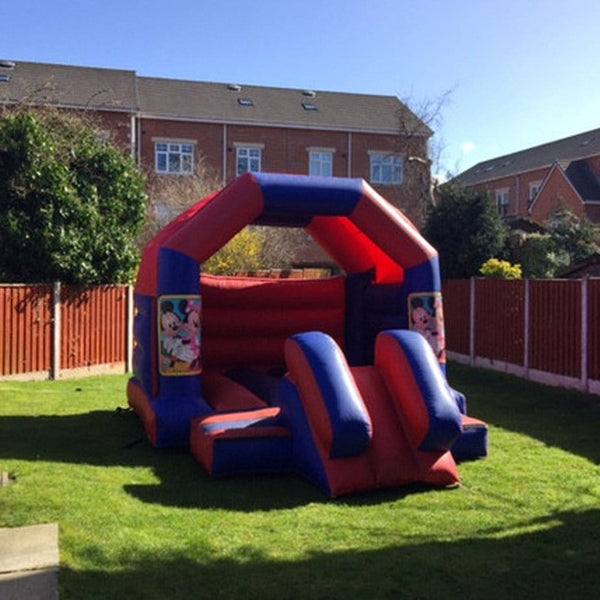 Product Sizes & Prices
One Size – (12ft x 16ft) - £70
Hire This Mickey Mouse Bouncy Slide Today
If you're looking for a perfect way to make a child's birthday party exceptional, you'll find that hiring our Mickey Mouse Bouncy Slide is a smart decision.
This colourful and fun Bouncy Slide attaches to the side of our Mickey Mouse bouncy castle and it makes our bouncy castle even more fun.
We offer this slide as an optional add-on and lots of parents hire it alongside the castle, with a mind to offering the kids at their parties even more playtime options.
Kids just need to take off their shoes before they climb in the bouncy castle.
They'll be able to exit the castle via the Bouncy Slide if they wish to.
This slide will allow them to get some healthy exercise at your special event. 
Some children's cartoon characters are not that well-known, however, Mickey Mouse is definitely different.
He's famous and beloved and you'd be hard-pressed to find anyone in the world who doesn't recognise his face.
Mickey Mouse is a cartoon mouse who was created by Disney back in the golden years of Hollywood.
He's black and white and has a warm heart.
His companion is Minnie Mouse and he has many zany and charming cartoon friends.
Mickey appears in cartoons, books, comics and more and there are so many Mickey Mouse toys out there!
His appeal will never fade and that's why our Bouncy Slide is so popular!
Hire Our Bouncy Castle Today
Now will be a perfect time to hire our Bouncy Slide.
Just call us and we'll reserve it and make sure that you get the bouncy castle that matches.
Our team members are standing by to help and they want to deliver premium customer service.
Once you've tried our company, you'll see that we offer clean, well-maintained and safe inflatable play equipment, as well as warm and friendly customer service.
To find out more about Mickey Mouse, please click here.