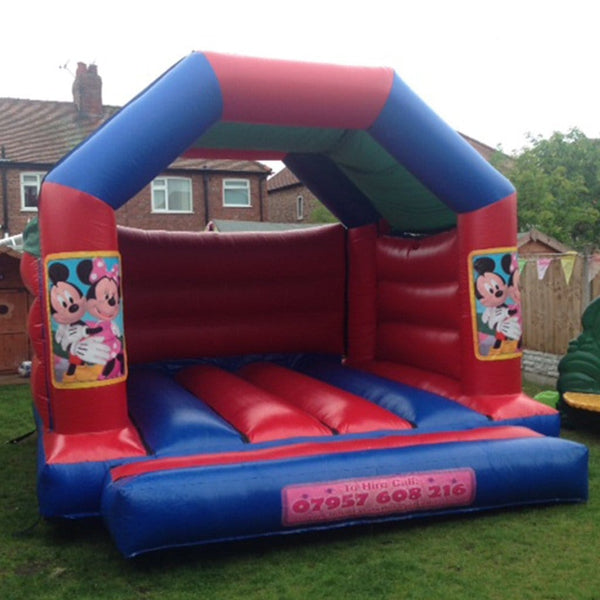 Product Sizes & Prices
Small – (10ft x 12ft) - £50
Medium – (12ft x 14ft) - £55
Large – (15ft x 15ft) - £60
Description
The highlight of your child's next party will be this incredible Bouncy Castle with a classic depiction of everyone's Disney favorite, Mickey Mouse.
Your child will be beyond excited and grateful to have the Mickey Mouse-themed party that will be the talk of all of their friends.
They wont be able to wait to invite everyone to their amazing party!
Our Bouncy Castles are guaranteed to be safe and durable giving you peace of mind while your child and their friends have the time of their lives.
The Mickey Mouse Bouncy Castle will hold several bouncing children at one time.
You will have the added benefit of relaxing and watching the fun while you socialise with other parents.
You will need only minimal planning because the Bouncy Castle will be the highlight of the day, and we handle that for you!
The Mickey Mouse Bouncy Castle comes in three size options making it easy for you to choose the castle that best fits your needs.
Your favorite Mickey Mouse fan will enjoy every second of sharing the excitement of this Bouncy Castle with their many party guests.
It is important that every child remove their shoes and ensure that all hands and pockets are empty to avoid puncturing the castle lining.
There should be adult supervision at all times and we recommend limiting the number of children allowed to jump at one time to ensure that everyone stays safe and has a good time.
Your child will thank you over and over for making their party one that they will remember for years to come.
Their friends will almost certainly have such a wonderful time soaring through the air with Mickey Mouse that they will ask their parents for their very own party castles.
We make it a point to ensure that every customer has the best possible experience and is completely satisfied with their order.
If you have an issue with your order at any time during the process, please contact our office so that it may be immediately resolved.
Leave the hard work to us and throw your child the most memorable, exciting party of their life!
Not The Right Bouncy Castle For You?
Please click here if you would like to browse the rest of our bouncy castles for hire.