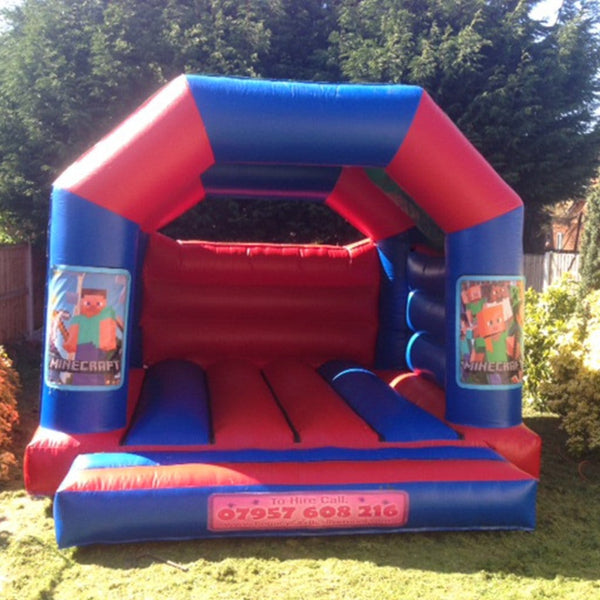 Product Sizes & Prices
Small – (10ft x 12ft) - £50
Medium – (12ft x 14ft) - £55
Large – (15ft x 15ft) - £60
Description
We have a Bouncy Castle for everyone, including the computer game lover in your life.
If your child has a Minecraft obsession, they will be even more obsessed with this Bouncy Castle inspired by the highly popular computer game.
Children and adults alike will be impressed by the Minecraft themed party tied together with this unique Bouncy Castle.
Your child will be ecstatic and won't be able to contain their excitement when inviting friends to their party.
In addition to depicting scenes from your child's favorite game, we guarantee that this Bouncy Castle is completely safe and durable.
It will withstand even the most vigorous of bouncers!
Your child's mind and body will soar as they share this once in a lifetime experience with their best friends and party guests.
You will get to kick back with a relaxing drink and observe the fun because the hard part will have been handled for you.
Aside from cutting the cake and socialising with party guests, you won't have anything else to do!
Don't miss your chance to throw the best possible party for your favorite Minecraft fan.
Your Minecraft fan will be transported to a world where they are in charge.
They can embark on the adventure of their choosing with all of their favorite family and friends.
The castles of various sizes are each designed to hold a maximum weight limit, so your child can jump with many friends at once.
We recommend no shoes and empty hands and pockets to avoid puncturing the material and ensuring child safety.
We also recommend adult supervision at all times that any number of children are jumping inside the castle.
The Minecraft Bouncy Castle will be the talk of your child's friends and an experience that they won't soon forget.
We guarantee that their friends will have such an amazing time that they too will ask their parents for Bouncy Castles at their own parties.
It is important to us that each and every customer is completely satisfied with the service that they receive.
If there are any issues with your order, no matter how minor, please call our office so that we may immediately fix the problem.
Let us do the hard work to give your child the party of their dreams while you take all the credit!
Not The Right Bouncy Castle For You?
Please click here if you would like to browse the rest of our bouncy castles for hire.