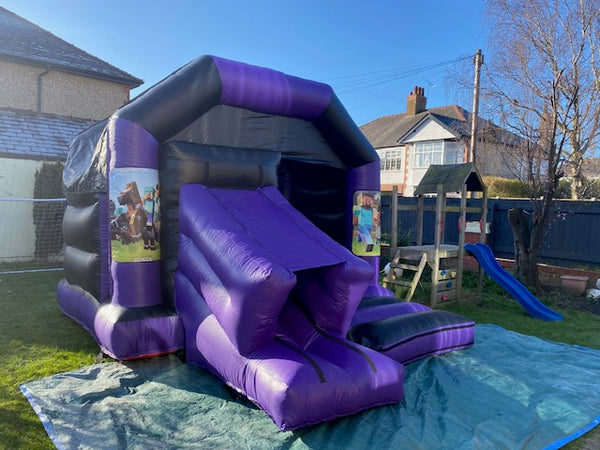 Product Sizes & Prices
One Size – (12ft x 16ft) - £70
Hire This Minecraft Bouncy Slide Today
Our Minecraft Bouncy Slide is a great add-on to our Minecraft bouncy castle.
It is well worth hiring as it will add plenty of functionality to the bouncy castle.
We bolt this Bouncy Slide right onto the front of the inflatable castle.
Kids remove their footwear, bounce in the castle and then slide out if they want to.
It's the perfect way to ensure that kids get enough healthy exercise while they are at a party.
We hire this popular design, which features motifs from the Minecraft video game, for birthday parties, community festivals and lots of other types of celebrations.
Some people even hire our castle and slide for grown-up events, such as wedding receptions and anniversary parties, so that little ones have something to do while the grown-ups relax!
Kids need physical exertion in order to be happy!
When you give them a nice, safe place to play, they will be happier and feel better.
Always have an adult on hand in order to supervise.
You'll find that kids indulge in some wonderful and creative play while they utilise this Bouncy Slide and its matching castle!
Learn All About Minecraft
This computer game is hugely popular and it takes place in a virtual sandbox, where players interact with other gamers by setting and breaking an array of blocks.
The environment is 3-D and it allows players to use their imagination and intelligence in order to get ahead.
It's possible to construct a host of things with these blocks, within a variety of game modes.
Minecraft appeals to many different age groups and we're proud of offer a Minecraft Bouncy Slide for hire.
So, why not hire it today?
How To Hire The Bouncy Slide
To hire our fun and affordable Bouncy Slide for your next special event, simply call us or complete our simple enquiry and let us take care of everything else.
We'll reserve it for you if it's available and make sure that you have everything else that you need for the big day.
To find out more about Minecraft, please click here.