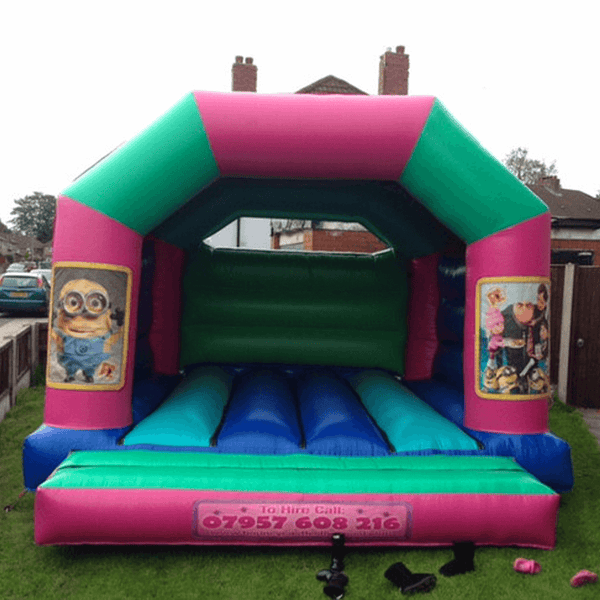 Product Sizes & Prices
Small – (10ft x 12ft) - £50
Medium – (12ft x 14ft) - £55
Large – (15ft x 15ft) - £60
Description
If you have kids or spend time around kids, you probably already know that Minion cartoon characters are very popular with little ones!
When you hire our fun and colourful Minions Bouncy Castle for a child's birthday party (or for any other type of kid-centered special event), you'll add so much excitement to your get-together!
Children really enjoying frolicking in our Minions Bouncy Castle, which is decorated with plenty of cute and reliable little Minions!
As well, you should know that our Bouncy Castle is quite affordable to hire.
When you place your trust in us, you won't be disappointed!
We'll reserve the Bouncy Castle for you and make sure that it is immaculate and well-maintained on the big day, with a mind to making your special event even more special.
We always offer warm and caring customer service, so you'll find that choosing us is the key to enjoying a smooth and seamless transaction.
Learn About The Minions
Minions are characters in two popular animated films (Despicable Me and Minions).
They are compact, yellow and born to serve the needs of their masters, however, sometimes, these hard-working servants get stuck with some pretty strange bosses.
Minion characters are everywhere these days.
Lots of kids enjoy playing with Minion toys and these stuffed or plastic Minions definitely inspire their imaginations.
The Minions film which was released in 2015 earned a lot of money. It was very popular. The Minions film is a non-Disney animated feature.
Please Get In Touch Today
Planning a party or special event for children will be easier when you hire our Minions Bouncy Castle today.
We're standing by in order to help you plan the perfect special event.
To get the ball rolling, simply give us a call our complete our simple enquiry form.
We look forward to giving you excellent service!
Not The Right Bouncy Castle For You?
Please click here if you would like to browse the rest of our bouncy castles for hire.