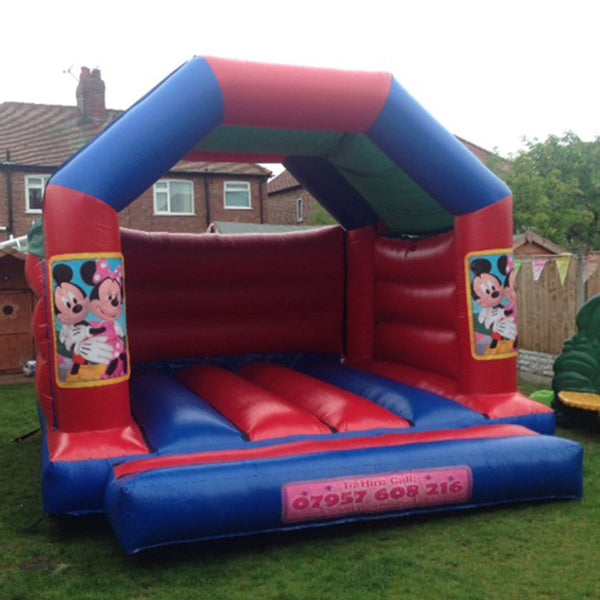 Product Sizes & Prices
Small – (10ft x 12ft) - £50
Medium – (12ft x 14ft) - £55
Large – (15ft x 15ft) - £60
Description
If your child loves Minnie Mouse, they will be ecstatic when they sees this incredible Bouncy Castle based on the popular Disney character.
Your child's party will be the most anticipated event of the year when they tells all of their friends about the highlight.
They won't be able to contain their excitement when they invite all of their guests.
The Minnie Mouse Bouncy Castle is guaranteed to be safe and durable and to provide you with peace of mind while your child and their friends have the time of their lives.
It holds several children at one time with a generous maximum weight limit.
You will get to kick back and watch the fun, secure in the knowledge that you have planned an exciting, memorable party with minimal effort.
The Minnie Mouse Bouncy Castle comes in three size options making it easy for you to choose the castle that best fits your needs.
Price varies depending on size, and specific colors may also vary.
Your Minnie Mouse fan will have the time of their life and revel in sharing their joy with their closest friends.
In order to accommodate several children at one time, certain safety measures should be followed.
These include each child removing their shoes before entering and ensuring that their hands and pockets are entirely empty to avoid the risk of puncturing the material.
Adult supervision is required at all times and we highly recommend limiting the number of children allowed inside the castle at one time to make sure that everyone is safe.
Your child will be so overjoyed with shouting, jumping, and playing with their friends in their Minnie Mouse Bouncy Castle that they might just forget about everything else.
So skip the elaborate decorations and food and center your party on pure FUN!
We are positive that every child will have such a great time that they will ask their parents for their very own castles at their next party.
We make it our priority to ensure that every customer is completely satisfied with the level of service received.
If you have an issue with any part of your order, don't hesitate to contact our office so that we may resolve the problem as soon as possible.
Leave the hard work to the professionals and sit back and enjoy watching your child have the time of their life.
Not The Right Bouncy Castle For You?
Please click here if you would like to browse the rest of our bouncy castles for hire.