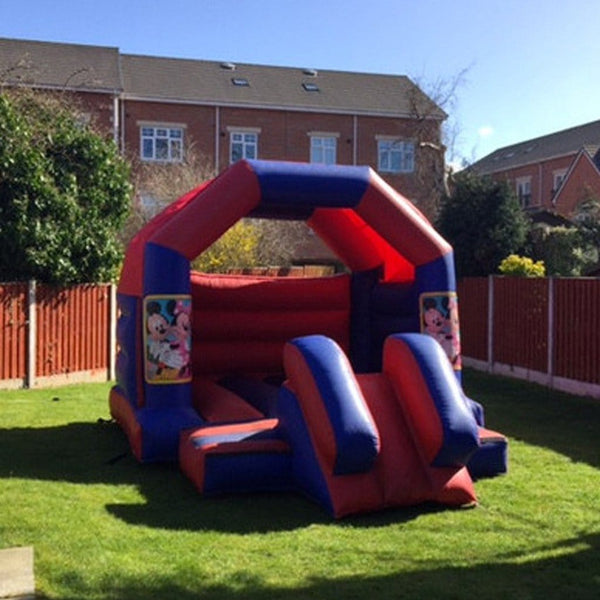 Product Sizes & Prices
One Size – (12ft x 16ft) - £70
Hire This Minnie Mouse Bouncy Slide Today
Does your child adore Minnie Mouse?
If so, you should know that hiring our Minnie Mouse Bouncy Slide will be the key to making his (or her) birthday party wonderful!
This fun and colourful Bouncy Slide features Minnie herself and it bolts onto the side of our matching Minnie Mouse bouncy castle.
By choosing to add this optional slide, you'll boost the fun quotient of the bouncy castle and give the kids at your party more playtime choices.
To use the slide, kids will climb into the bouncy castle and do some playing. Then, they'll slide out.
The slide is attached so kids may access it from inside of the castle.
It's a safe, immaculate and beautiful slide which encourages healthy physical activity, however, an adult should always be there to supervise the little ones as they bounce, pretend and slide.
Kids should also take their shoes off before entering the castle and using the slide.
Now that we've covered some basic facts about our affordable slide, which is just so easy to hire, let's take a moment to talk about the timeless appeal of Minnie Mouse!
Minnie Mouse Is Cute & Charming
We probably don't need to provide too much background here, as almost everyone knows that Minnie Mouse is a sweet and good cartoon mouse who is a special part of Mickey Mouse's life!
She's a character at Disneyland, she appears in cartoons, comics, books and more and there are plenty of Minnie Mouse dolls and stuffed animals out there.
Wholesome and adorable, Minnie promotes old-fashioned values and she's a good influence on little ones!
If you'd like to hire this Bouncy Slide and the matching bouncy castle, please call our team today.
We're standing by to offer caring and professional service.
We want your birthday party or other special event to go off without a hitch and we're always here to help.
If you would like to find out more information on Minnie Mouse, please click here.