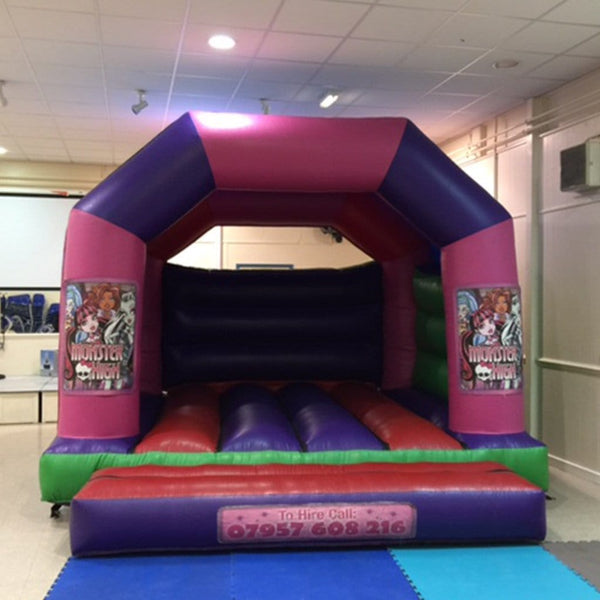 Product Sizes & Prices
Small – (10ft x 12ft) - £50
Medium – (12ft x 14ft) - £55
Large – (15ft x 15ft) - £60
Description
If you're interested in making a child's birthday party as great as it can possibly be, hiring our Monster High Bouncy Castle today will be a smart decision.
This charming Bouncy Castle features a reasonable hire rate and it's just so much fun for kids to look at and play in.
This soft and inflatable castle showcases famous cartoon characters from Monster High, so it's definitely a perfect choice for any child who loves this animated TV show.
When you choose to hire our Bouncy Castle today, you'll be one step closer to planning a birthday party (or other type of special event) which is fun and memorable for all attendees.
This Bouncy Castle is a popular choice with kids and we hire it out often.
It's got a great colour scheme, as well as lots of surface area for frolicking and bouncing.
Children should remove their trainers before they get inside and a grown-up should always be there to keep watch on the kids while they jump around.
Our Bouncy Castle is very clean and we maintain it carefully in order to preserve its safety and quality.
Give Kids A Place To Play
These days, kids don't always get a lot of exercise.
The Internet Age means that kids spend a lot of time on computers and smart phones or playing computer games.
When you hire our Bouncy Castle, you'll be able to get kids moving and you'll help them to blow off steam.
Giving kids access to a Bouncy Castle is such a healthy way for them to express themselves through play…while they get a bit of exercise!
Learn About Monster High
Monster High is a USA-based franchise which features dolls, books and an animated TV shows.
Most popular with girls, the Monster High brand does have mass appeal, so many boys like it, too.
It's got a monster movie edge which makes it slightly offbeat and kids who appreciate that kind of thing are likely to be loyal fans.
Each character in Monster High is a relative of a famous movie monster.
Monster High dolls are quite popular and they are manufactured by the toy company Mattel.
To hire this fun Bouncy Castle today, please reach out to us today.
Not The Right Bouncy Castle For You?
Please click here if you would like to browse the rest of our bouncy castles for hire.