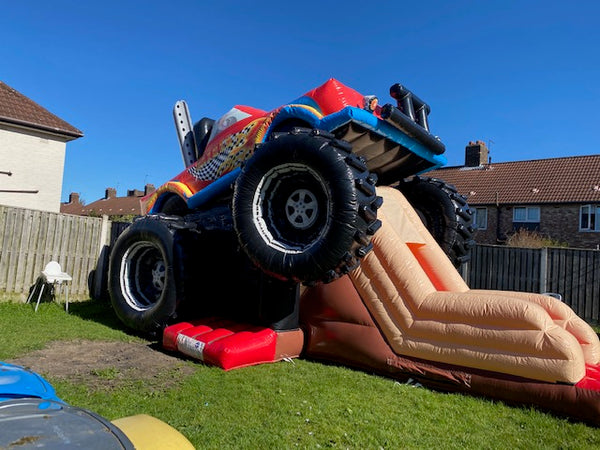 If you are looking for something different to entertain your kids, then you should definitely check out our new inflatable monster truck slide.

Nothing is more fun or exciting for kids than to have their own inflatable monster truck slide. Kids adore it and it brings bags of fun for any occasion.

Our inflatable monster truck slide is perfect for all kids of all sizes, just make sure for younger kids that adult supervision is provided at all times as the top of the slide is quite high up.

If you want to make things more interesting, why not play some games like the fastest up and down the slide wins or have a relay race between groups of 2 or 3 kids to see which group can complete the slide the fastest, the opportunities for fun and laughter are literally endless.

If you would like to hire our bouncy monster truck slide, we are ready to take your booking. Just make sure you have enough space available as this bouncy monster truck slide is quite big and needs a fair amount of space on either side and front and back.

Once you are ready to book, simply complete our enquiry form or call us direct and we will get it booked in for you straight away.