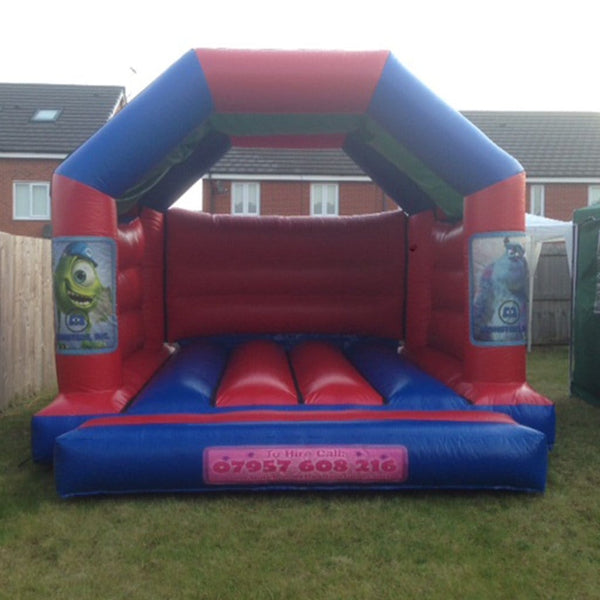 Product Sizes & Prices
Small – (10ft x 12ft) - £50
Medium – (12ft x 14ft) - £55
Large – (15ft x 15ft) - £60
Description
If you'd like to make a special child happy on his or her birthday, you may find that hiring our Monsters Inc.
Bouncy Castle is a great way to achieve your goal!
Monsters Inc. is such a charming and popular Pixar animated film and its array of characters are showcased on our inflatable play place!
When you hire this castle, which is perfect for all types of special events which feature little guests, you'll ensure that your event is truly fun for children.
Your very young guests will have a place to play and to imagine and they'll be able to burn off lots of energy.
Our Bouncy Castles Are Safe & Fun
In the Internet Age, the value of physical play rises, as so many kids spend too much time playing computer games and surfing the Web.
When you hire our affordable Monsters Inc. Bouncy Castle, you'll give kids a chance to enjoy physical activity in a soft and super-bouncy environment.
Just make sure that they take off their shoes before they get into the castle. Also, have an adult on hand to watch over them.
Learn About Monsters Inc.
Monsters Inc. is so beloved by kids.
It's one of Pixar's most popular animated feature films, due to its excellent script and adorable characters.
In this film, two monsters work at Monsters Inc. and are employed as "scarers".
They are the main characters and their names are Sulley and Mike.
These monsters try to become as fearsome as possible ,however, an interaction with a little girl shows them that there is more to life…
Hire Our Bouncy Castle Today
Now that you know more about this beautiful Bouncy Castle and its benefits, why not hire it today?
Just call or email and we'll reserve it for your special event.
Not The Right Bouncy Castle For You?
Please click here if you would like to browse the rest of our bouncy castles for hire.