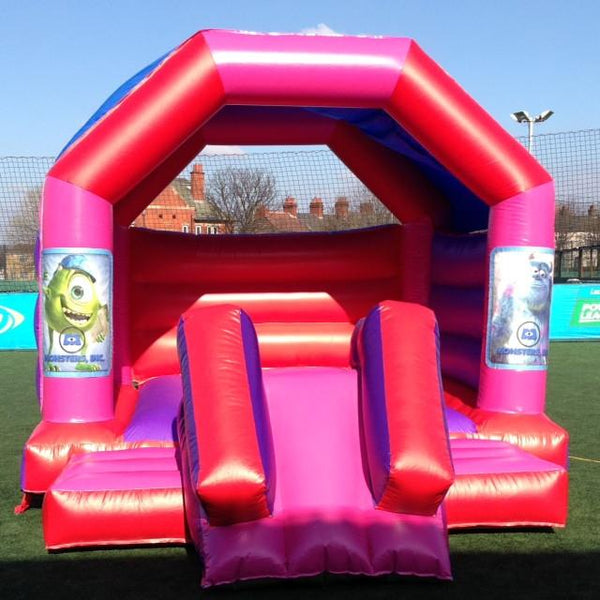 Product Sizes & Prices
One Size – (12ft x 16ft) - £70
Hire This Monsters Inc Bouncy Slide Today
If you want to make your kid's birthday party something unforgettable, you should know that our Monsters Inc Bouncy Slide is available for hire.
This fun and exciting inflatable slide bolts right onto the side of our matching Monsters Inc Bouncy Slide.
It's an exceptional design which adds so much functionality to our bouncy castle and you'll find that our hire rates are really reasonable.
When you choose this Bouncy Slide, you'll be able to ensure that your party, community festival or other special event is truly child-friendly.
Why Kids Love Monsters Inc
Monsters Inc is a famous Pixar film which stars two not-so-scary monsters named Sulley and Mike.
They work for Monsters Inc and they are supposed to scare children for a living, however, they just aren't as threatening as they could be!
Hilarity ensues as they try to beef of their scaring skills.
This exciting tale is heartwarming and it promotes good values.
Monsters Inc is very popular with little ones and has received a lot of critical acclaim.
Our Monsters Inc Bouncy Slide and matching bouncy castle are very popular with kids.
In fact, they usually start running towards our inflatable play equipment as soon as they see it in the distance!
Hire Our Monsters Inc Bouncy Slide Today
If you're interested in hiring our Bouncy Slide, we'll reserve it for you and also ensure that you get the matching bouncy castle.
The slide actually bolts onto the side of the castle, so kids may play in the bouncy castle and then slide out.
Our safe, clean and well-maintained Bouncy Slide is very affordable to hire and it will help the children at your special event to get the healthy physical activity that they need.
To book this design, please reach out to us today.
We are looking forward to giving you the great customer service that you want and deserve.
If you would like to find out more about Monsters Inc, please click here.