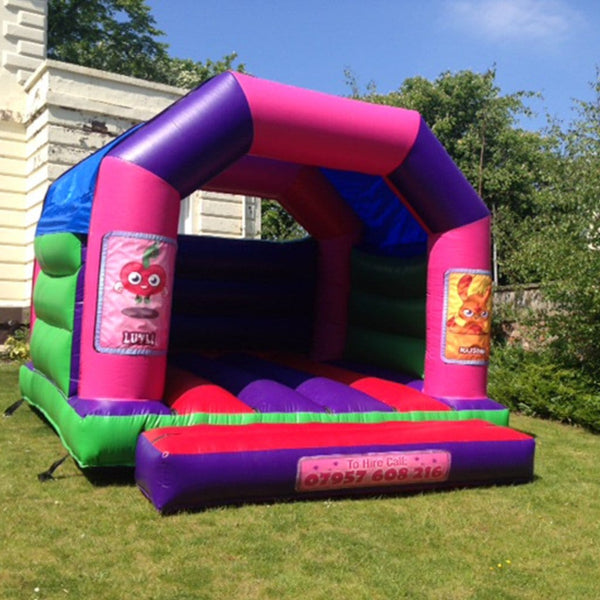 Product Sizes & Prices
Small – (10ft x 12ft) - £50
Medium – (12ft x 14ft) - £55
Large – (15ft x 15ft) - £60
Description
If your son or daughter loves Moshi Monsters, hiring our beautiful Bouncy Castle for his or her birthday party will be a perfect way to make him or her happy.
This colourful and exciting play place is inflatable and it's the ideal place for your child and his or her buddies to jump and frolic.
All kids will need to do is take off their shoes in order to take advantage of all that this Bouncy Castle has to offer.
Also, you'll find that our hire rates are really affordable!
Why Hire Our Bouncy Castle?
Kids love Bouncy Castles and our customers hire them for lots of different types of special events, such as birthday parties, community festivals and school socials.
They are the perfect complement to any get-together which features little ones.
Since kids don't get as much exercise as they used to, giving them a place of their own to jump, bounce and indulge their imaginations will help them to feel healthier and happier.
Our Moshi Monsters Bouncy Castle is safe, clean and well-maintained.
Once kids at your event see it in the distance, they'll probably start running towards it! It may just be the secret of putting on a truly spectacular event!
Learn About Moshi Monsters
Moshi Monsters is a popular website which attracts kids aged six to twelve.
To date, a staggering ninety million kids have signed on to the website, from one hundred and fifty different global locations.
When a child registers, he or she will be able to select a preferred Moshi Monster which may be named and nurtured.
Players at the Moshi Monster website then cruise around Monsto City and enjoy lots of fun games and features.
There are plenty of Moshi Monsters toys and products out there.
Hire Our Bouncy Castle Today
Just call us today and we'll reserve this Bouncy Castle for you!
We want your birthday party or other event to be the best that it can be!
Not The Right Bouncy Castle For You?
Please click here if you would like to browse the rest of our bouncy castles for hire.