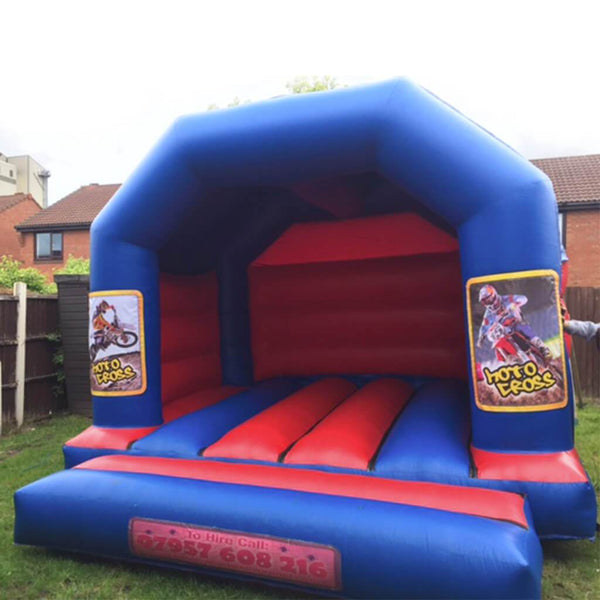 Product Sizes & Prices
Small – (10ft x 12ft) - £50
Medium – (12ft x 14ft) - £55
Large – (15ft x 15ft) - £60
Description
If your kids love getting dirty with some adrenaline-fuelled motorsports, why not hire this incredible Motor Cross bouncy castle to entertain them? It will offer all of the energy and excitement they need, without the mud, speed and noise of a motor cross race!

Featuring artwork of off-road bikes rallying through a muddy dirt track, this bouncy castle is great for any party or special occasion – but possibly perfect for the boy that is more in to motorsport heroes than superheroes! These motorbikes feature in one of the most exciting sports around right now, so it's natural that you want a bouncy castle themed this way too!

The Motor Cross bouncy castle has plenty of space for a day of fun for kids young and old, and is both reliable and affordable. While your young petrol head may love to get dirty in the rain, it's likely you will want a dry bouncy castle – the rain cover included with this product makes it an ideal choice!
What Is Motor Cross?
Motor Cross remains an incredibly popular sport in the UK, as well as around the world. It consists of both physical races and time trials around challenging and muddy tracks between off-road motorbikes, generally referred to as "scramblers".

The sport was actually born in the UK, originally evolving out of the motorbike trials that were held up and down the country. Today, the Motorcross World Championship is staged through numerous grand prix around the world.

However, the theming on this bouncy castle also mean it's perfect for general fans of motorbikes or motorsport in general.
Booking Our Motor Cross Bouncy Castle
We offer one of the easiest and most affordable bouncy castle hire services in Merseyside. If you want to hire this turbocharged castle for your next family party, kids get together or special event, then get in touch with a member of our team today.
We will be able to supply a quotation based on your requirements, so have ready your preferred time, date and location information so that we can get right to work on booking this Motor Cross bouncy castle!
Not The Right Bouncy Castle For You?
Please click here if you would like to browse the rest of our bouncy castles for hire.