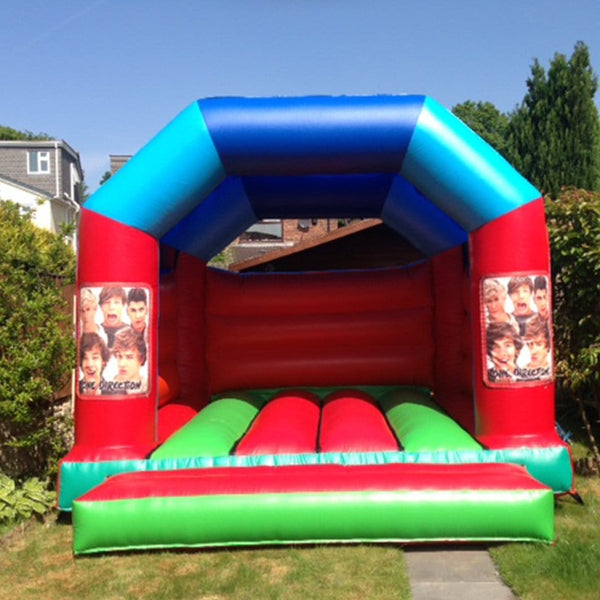 Product Sizes & Prices
Small – (10ft x 12ft) - £50
Medium – (12ft x 14ft) - £55
Large – (15ft x 15ft) - £60
Description
One Direction rose to fame after Simon Cowell created the band during a famous episode of the X-Factor!
Today, fans all over the world adore this band!
While One Direction has lost one original member (Zayn Malik, who now has a solo career), they are still popular as a four-piece boy band. Kids love their songs and they also like the band member's style and looks!
If you know a child who loves One Direction, hiring our One Direction Bouncy Castle will be such a great way to make his or her birthday party unforgettable!
Our Bouncy Castle is adorned with images of the boys, along with the One Direction logo.
This Bouncy Castle will inspire lots of fun and creative play and hiring it won't cost you an arm and a leg.
Why Hire A Bouncy Castle?
When you hire a Bouncy Castle, you'll be able to watch the kids play in a safe and clean environment.
Once they take off their shoes, they'll be able to run inside and start bouncing!
These castles inspire kid's imaginations, so they allow children to be creative while they get good exercise!
In our smart phone and computer game culture, kids often spend too much time using electronic gizmos and not enough time moving their bodies.
A Bouncy Castle is a healthy way to inspire more physical activity.
Kids really blow off a lot of steam in our One Direction Bouncy Castle and this is so good for them!
Hire This Bouncy Castle Today
Since One Direction is a worldwide phenomenon, this is definitely one of our most popular Bouncy Castle designs.
We maintain it with care, so that it's in perfect condition for every single special event.
If you want to make a birthday party, community festival or school event shine, be sure to hire this Bouncy Castle today!
Our service representative will reserve it for you and give you any help and guidance that you need.
Not The Right Bouncy Castle For You?
Please click here if you would like to browse the rest of our bouncy castles for hire.