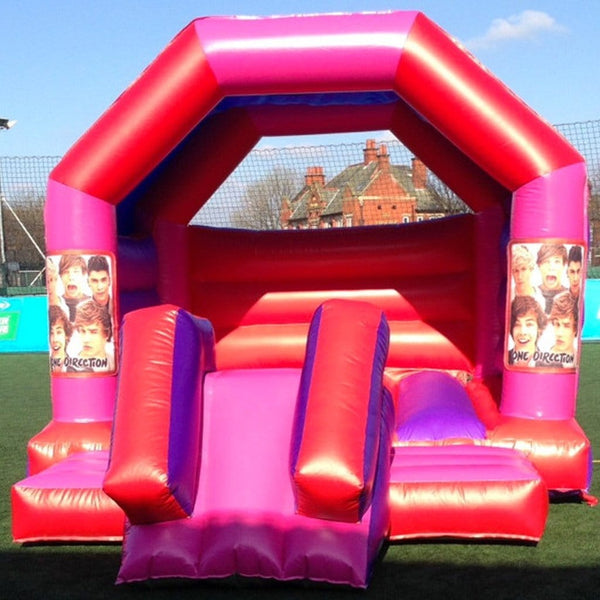 Product Sizes & Prices
One Size – (12ft x 16ft) - £70
Hire This One Direction Bouncy Slide Today
One Direction is a boy band which was created when all of its members appeared as contestants on the reality TV show, The X Factor.
The boys were put together as a group by Simon Cowell and they quickly became a worldwide sensation.
Cute and talented, the guys in One Direction know that their fans are the reason for their success and they do all that they can to thank them.
This band is very popular with young people.
If your child loves One Direction, you'll find that hiring our One Direction Bouncy Slide (which goes with our matching One Direction bouncy castle) is a great way to make his or her birthday party spectacular!
Why Hire A Bouncy Slide?
Kids spend too much time inside these days, playing computer games, and too much time staring into smart phones while they're outside.
For this reason, a lot of kids just aren't getting enough exercise.
When you hire our Bouncy Slide and matching castle, you'll provide a tempting environment at your special event.
Kids will love running into the castle, bouncing around and sliding out.
They'll move their bodies and access the many benefits of physical activity, including better mood and healthier bodies.
Giving kids an outlet for their energy is a great way to ensure that a party is successful. Plus, our inflatable equipment is just so fun for them.
It always inspires a lot of creative play!
Please Contact Us Today
Now that you know more about our One Direction Bouncy Slide, why not hire this design today?
Call us up and we'll let you know if it's available.
We'll also ensure that you reserve the matching bouncy castle for your party.
We offer great service, fair prices and excellent play equipment to Liverpool residents, so why not call us up today?
If you would like to find out more information on One Direction, please click here.