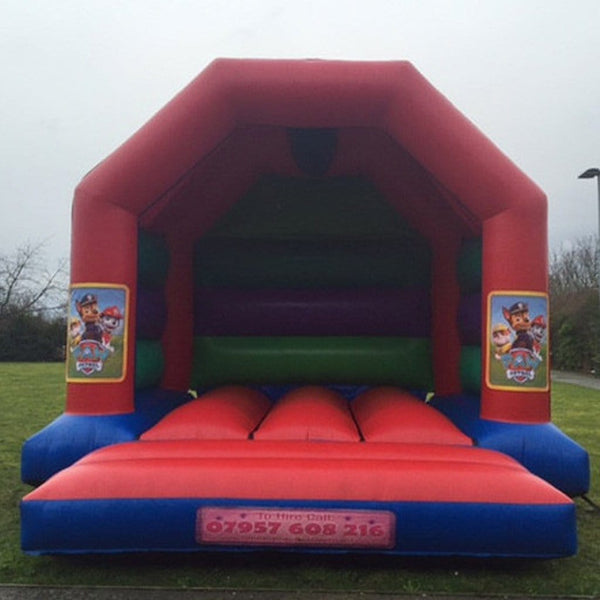 Product Sizes & Prices
Small – (10ft x 12ft) - £50
Medium – (12ft x 14ft) - £55
Large – (15ft x 15ft) - £60
Description
Hiring our PAW Patrol Bouncy Castle for your child's birthday party will be such a great way to make sure that every little one at the party has a good time!
In particular, if your son or daughter is a big PAW Patrol fan, he or she will be so thrilled to see this Bouncy Castle when it arrives.
It is fun, it's colourful, it's clean and it offers a lot of surface area for bouncing!
We hire this design to lots of parents and guardians, who use it in order to make birthday parties really special, however, it's also popular with school organisers and community festival organisers.
Bouncy Castles are wonderful choices for any special events which feature kids!
Learn About PAW Patrol
PAW Patrol is an animated TV show which was launched in late summer of 2013, on the Nickleodeon cartoon network.
It features a pack of rescue canines who are directed by a young tech wizard named Ryder.
The dogs work with Ryder in order to keep the community safe.
This show features excellent values, so it's a positive choice for kids. It's also educational.
Since PAW Patrol is so popular, our PAW Patrol Bouncy Castle is a perfect place for kids to play.
Children already know and love the characters and they feel happy and comfortable seeing them on the castle's surfaces.
Why Not Hire This Design Today?
Now that you know more about this design, why not reserve it for your child's birthday party?
When you do, you'll be able to ensure that kids get healthy exercise at your event.
This design is surprisingly affordable so don't hesitate to call our team today.
We'll let you know how much it costs and take care of everything for you if you wish to hire it.
We offer great customer service and we look forward to hearing from you.
Not The Right Bouncy Castle For You?
Please click here if you would like to browse the rest of our bouncy castles for hire.