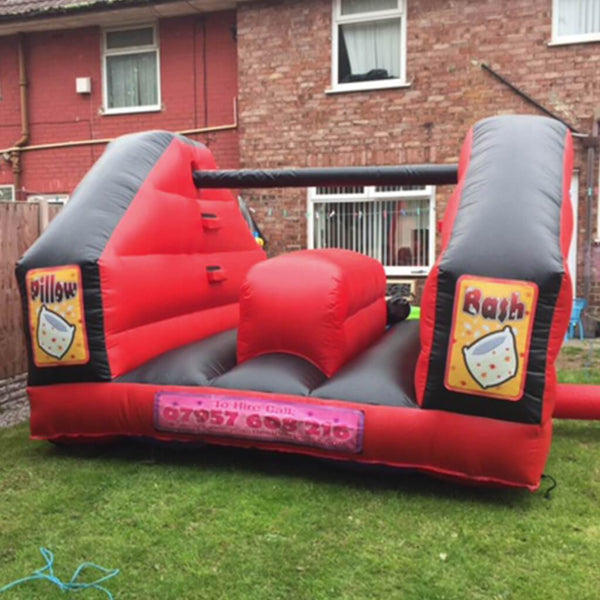 If you want to add some good old competitive spirit in to your next event or family party, then why not consider hiring our inflatable Pillow Bash?

This inflatable attraction consists of a pole suspended between the two side walls of the structure, and with the inflatable bed/floor a small distance below them. Two competitors sit each end of the pole and use over-sized pillows to hit the other person in an attempt to send their opponent crashing to the bouncy floor beneath them. It's a bit like a cross between pillow fighting and the old TV show Gladiators – what's not to love?! This exciting and exhilarating game will get plenty of laughs!

Pillow Bash is undoubtedly one of the most popular products we have for family parties and mixed-age events. It's suitable for guests of nearly any age, young and old, and can provide hours of fun during your event.

It's almost as much fun for the spectators as it is the participants, which means everyone can really get involved. We also provide protective helmets, just to make sure everything is as safe as it can possibly be!

The perfect inflatable fun for any occasion

Pillow Bash is equally at home both indoors and outside, just be certain that you have ample ceiling height (overhead clearance) if you're looking to hire it for an inside event.

We offer an unrivalled service when it comes to customer satisfaction, value for money and flexibility when hiring Pillow Bash. This also extends to all of our other products and bouncy castles that we hire out across Merseyside.

If you're looking for similar products, why not check out our Gladiator Duel inflatable which is also available to hire from us.

Should you have any enquiries, or if you simply wish to make a booking for any of our products, get in touch with our professional and attentive team today who will be happy to assist.