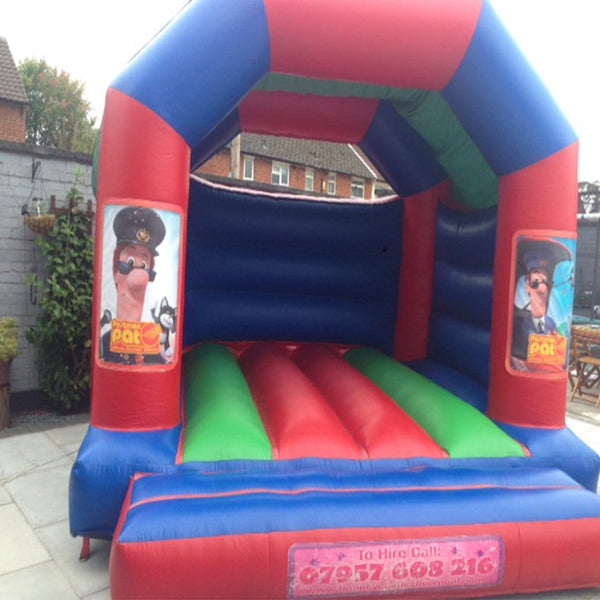 Product Sizes & Prices
Small – (10ft x 12ft) - £50
Medium – (12ft x 14ft) - £55
Large – (15ft x 15ft) - £60
Description
Does your son or daughter love Postman Pat?
If the answer to this question is, "yes", then you should know that our Postman Pat Bouncy Castle will be a perfect choice for your child's next birthday party.
When you choose this design, which is very affordable to hire, your kid will be able to frolic and bounce with his or her friends, while enjoying the castle's fun and colourful Postman Pat decorations.
Our Bouncy Castle allows kids to get healthy physical activity and it also inspires plenty of creative play.
This Bouncy Castle is very safe and clean, however, an adult should always to there to supervise kids while they are playing.
As well, kids should remove their footwear before they enter the castle.
Who Is Postman Pat?   
Postman Pat is a great show.
It's animated via stop-motion and it is produced by the Woodland Animations company.
This British favorite is meant for pre-schoolers and it tells the story of Pat Clifton, who is employed as a postman in Greendale.
This show first aired via the BBC1 television network.
This charming program is wholesome and promotes good values.
It's also very cute and fun to watch.
Postman Pat has become a part of British culture and little kids really like him.
How To Hire This Bouncy Castle
Our Bouncy Castle is very simple to hire.
In order to get the ball rolling, just contact our team today.
We are standing by in order to offer you excellent customer service.
If the Bouncy Castle is available on your preferred event date, we'll reserve it for you and we're also here to answer any questions that you might have.
When you choose us, you'll be able to plan a special event which really is special.
So, why not connect with our team today?
Not The Right Bouncy Castle For You?
Please click here if you would like to browse the rest of our bouncy castles for hire.