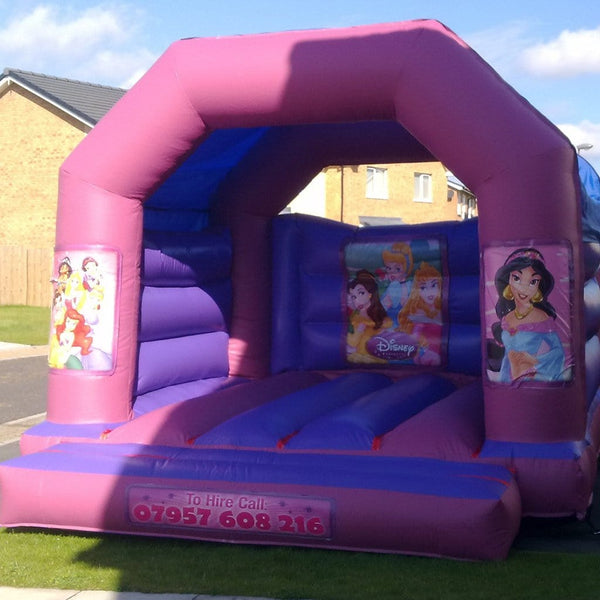 Product Sizes & Prices
Small – (10ft x 12ft) - £50
Medium – (12ft x 14ft) - £55
Large – (15ft x 15ft) - £60
Description
If your little girl has a Disney Princess obsession, then this is the Bouncy Castle for you.
She will love this bouncy castle depicting her favorite Disney Princesses including Belle, Cinderella, Ariel, and Snow White.
The vibrant colors are an instant attention-getter and your child will be sure to brag to all of her friends about the amazing party her parents are planning for her.
The smile on her face will be something you will cherish for a lifetime.
This Bouncy Castle is not only fun and visually appealing, but it is guaranteed to be safe and durable.
She will have the time of her life at her Disney Princess-themed party complete with matching Bouncy Castle and you will get the credit for throwing the party that is the hit of all of her friends.
You will also reap the benefits of putting forth minimal effort because the castle will be the hit of the party, possibly rivaled only by the cake!
Don't miss your chance to provide an excellent time for your child and each and every one of her party guests.
This Disney Princess Bouncy Castle comes in three size options and price varies so you can choose the castle that is right for you.
Specific colors may also vary.
Your child will don her princess ball gown and fly with her friends and her favorite Disney princesses to the magical land where dreams come true.
Each castle is designed to hold a maximum weight limit, so several small children can enjoy the fun at one time.
As long as she leaves her princess shoes and gorgeous tiara outside to avoid punctures, your princess will have the time of her life.
Proper adult supervision is highly recommended while children are inside the castle.
This Disney Princess Bouncy Castle will be the highlight of your child's year and will have all of her friends asking their parents for their very own princess castles.
We strive to ensure that each customer receives the best possible service and the smoothest delivery process.
If you experience any issues with your order, we ask that you call our office immediately so we may resolve the problem.
Sit back and relax and allow us to do the hard work of making your child's party one she will be talking about for years to come (or until next year anyway).
Not The Right Bouncy Castle For You?
Please click here if you would like to browse the rest of our bouncy castles for hire.