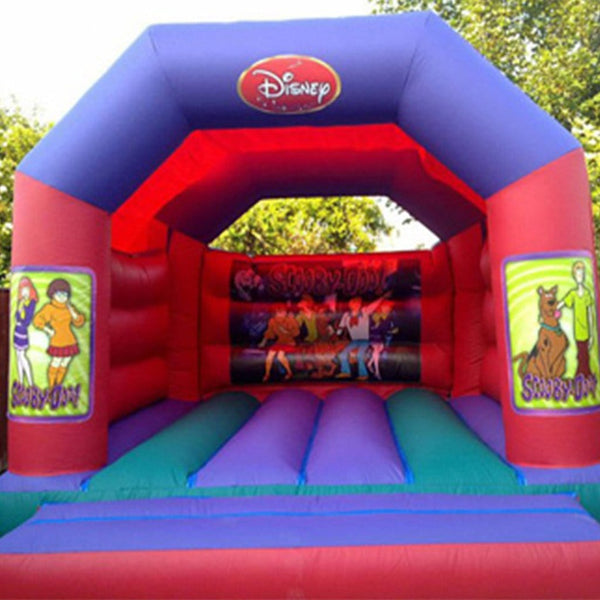 Product Sizes & Prices
Small – (10ft x 12ft) - £50
Medium – (12ft x 14ft) - £55
Large – (15ft x 15ft) - £60
Description
If you're looking for a special way to make a child's birthday party memorable, isn't it time to hire a Bouncy Castle?
There's really no better way to make kids happy at this type of event and our charming Scooby Doo Bouncy Castle is very popular with little ones.
This safe and clean play place is soft, because it's inflatable, so kids may frolic and bounce comfortably.
If you worried about keeping kids entertained at a birthday party or at another type of special event, such as a community festival, you'll find that hiring our Scooby Doo Bouncy Castle really takes the pressure off!
Learn About Scooby Doo
Scooby Doo is such a beloved cartoon character.
He's American, he's a dog and he's hilarious.
He's appeared in classic cartoons for years and he's probably one of the most famous USA cartoon characters, on a par with the characters from Looney Tunes.
Scooby Doo rose to fame during the 1970s, when his show aired for the first time.
During this cartoon program, he solves mysteries with his human friends, including Shaggy, Fred and Daphne.
Scooby gets scared easily and this is one reason why little kids are able to relate to him.
How To Hire Our Scooby Doo Bouncy Castle
If you're interested in hiring our Bouncy Castle, please call or email us today.
We are here to help and we'll let you know if this design is available on your preferred party date.
If it is, we'll reserve it for you and ensure that it's in excellent condition.
Kids need exercise in order to feel good.
These days, the Internet and computer games make it harder for kids to get outside and move their bodies.
For this reason, hiring our Bouncy Castle will give you a way to help kids get the healthy exercise that they need.
So, why not call us today?
Not The Right Bouncy Castle For You?
Please click here if you would like to browse the rest of our bouncy castles for hire.