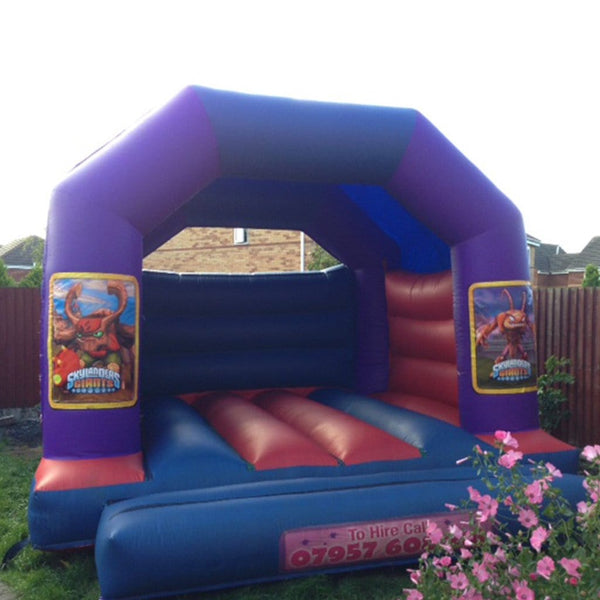 Product Sizes & Prices
Small – (10ft x 12ft) - £50
Medium – (12ft x 14ft) - £55
Large – (15ft x 15ft) - £60
Description
Our Skylanders Bouncy Castle features characters from the Skylanders computer game.
If you know a special boy or girl who loves Skylanders, you'll find that hiring our Bouncy Castle is a perfect way to make the child's birthday party exceptional.
Our colourful and exciting design is beautiful to behold and it gives kids a chance to jump, bounce and blow off steam in a safe and appropriate environment.
Without our Bouncy Castle at your child's party, you may have some trouble keeping kids entertained.
These days, kids do love computer games like Skylanders and they tend to spend lots of time inside, playing them.
It's really important that kids get exercise, so we do recommend hiring our Bouncy Castle for a birthday party or any other type of special event.
It's designed to help kids get the exercise that they need.
Kids should remove their footwear before they enter the Bouncy Castle and there should be an adult on-hand in order to supervise.
Learn All About Skylanders
Skylanders are mighty heroes and powerful champions.
They protect their realm, which is known as Skylands, and also function as the main characters in the Skylander computer game.
These heroes have magical abilities and also have some magical machines at their disposal.
They defended their world for ages, until they were banished by a villain and sent back to planet Earth.
Hire This Skylanders Bouncy Castle Today
If you know a little Skylanders fan, you should know that our Bouncy Castle will be a perfect treat for your child.
It's affordable for you to hire, we take excellent care of it and booking it will be as easy as making a phone call.
Once you've discovered just how much excitement a Bouncy Castle adds, you may be tempted to hire this design over the over again.
It's really the secret to throwing a wonderful kid's party!
Not The Right Bouncy Castle For You?
Please click here if you would like to browse the rest of our bouncy castles for hire.