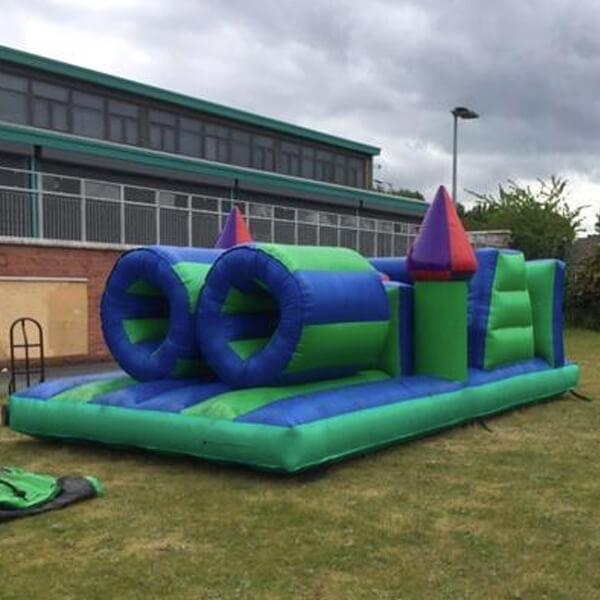 Product Sizes & Prices
One Size – (20ft x 12ft x 10ft) - £70
Hire This Inflatable Small Assault Course Today
If you're looking for a great way to entertain attendees at an upcoming special event, you'll love our Small Assault Course.
This design is more compact than some others that we offer, so it's perfect for special events with less outdoor space and/or smaller budgets, however, despite its smaller size, it's still packed with features which make it so much fun to use!
Your guests will be able to work through a series of physical challenges and this soft inflatable will cushion their bodies if they fall.
It's a fun, safe and high-quality design which also features a reasonable hire rate!
Why Hire An Inflatable Assault Course?
Our customers hire this Assault Course for a host of special events, from kid's birthday parties to corporate retreats and beyond.
It's also a fun choice for school events and community festivals.
We believe in this Assault Course in terms of its ability to get people moving, competing and having fun.
In our modern-day culture, when people spend way too much time staring into their phones, this Assault Course offers them the chance to forget about the Internet for a while.
It's designed to help people get fit while they play!
Hiring it will allow people to get healthy physical exercise and it will also inspire them to push past their typical limits.
It offers lots of fun challenges and we provide the most sensible delivery and pickup system, so you'll find that we cater to your needs.
Our great customer service is just another reason to choose our company…and to hire our Small Assault Course today!
To hire our Small Assault Course, be sure to reach out to us today.
We are standing by in order to offer answers to any questions that you might have, as well as the best Assault Course hire services in Liverpool.